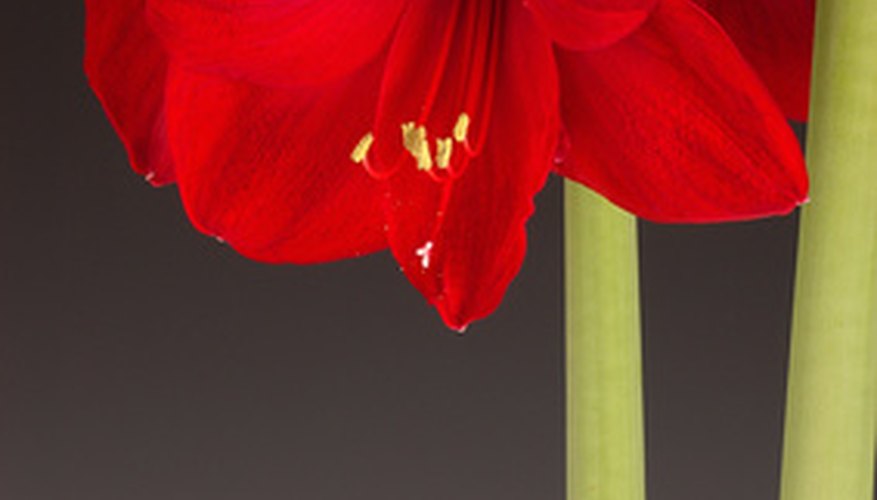 The amaryllis produces 8- to 12-inch-diameter blooms on each leafless stalk. Stalks can grow 2 to 3 feet tall and bear as many as six blossoms. Cultivars (cultivated varieties) with single-tiered or double flowers are available. Red and scarlet are the most popular colors. Amaryllis plants are admired because they can produce flowers in mid-winter and add color to the indoors. However, they are sometimes plagued by viruses.
Virus Definition
Viruses are small and infectious parasites that need a host, such as a plant, to live. Viruses can cause disease in plants and can be the reason for big losses in crops and home gardens. Some viruses stay confined to a certain part of a plant while others affect the entire plant. This is known as a systemic infection.
Mosaic Virus
According to the Oregon State University Extension Service, one of the main viruses affecting amaryllis is the hyppeastrum mosaic virus, formerly Amaryllis mosaic virus. It is a filamentous, or rod-shaped, virus transmitted by aphids. The Tomato spotted wilted virus also infects amaryllis plants.
Virus Symptoms
The hyppeastrum mosaic virus causes irregular light-and-dark mosaic patterns on leaves and flower stalks. Red streaks may appear later and plants become reduced in growth size and flowering over time. If the plant blooms at all, blooms are small and usually deformed.
Symptoms of the tomato spotted wilt virus are uneven yellow, white, or dark green spots or line patterns on leaves.
No Cure
There was no known cure for these viruses as of February 2010. The most popular recommendation from Oregon State University is to remove and destroy the plant and the bulb. In addition, sterilization of any instruments used is recommended so as not to spread the virus to other plants. The method of choice is to start over with fresh soil and new bulbs.
Virus Control
There are two suggested methods for virus control. Malathion is a spray with a suggested application every 15 days. In addition, viruses can be passed by weeds, so weeding around the amaryllis is recommended.