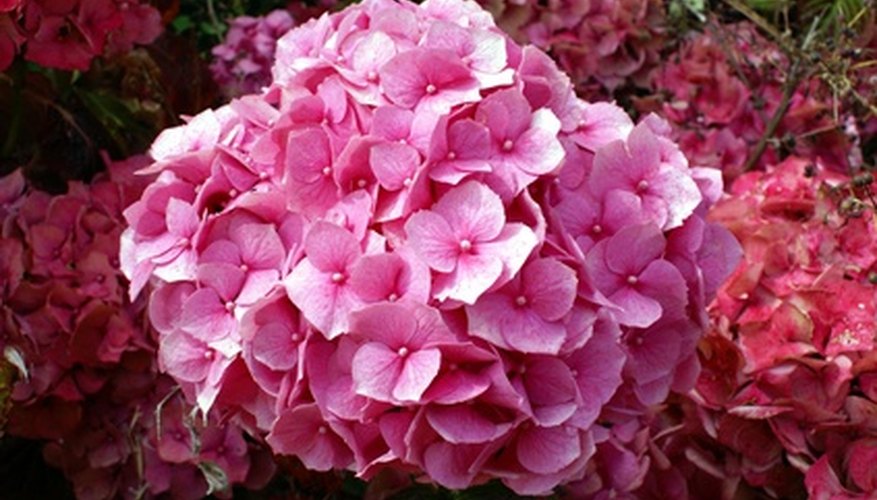 Hydrangeas are a common choice for landscaping because they can grow quite big and produce large groups of blooms. The plants are especially popular in the South because colder, northern climates can be hard on them. Most gardeners plant hydrangeas in the ground, but it's possible to plant the flowers in containers if you follow the proper steps and place them in a suitable location. Planting hydrangeas in containers is even possible where the plants might not otherwise thrive because of the unsuitable weather conditions.
Fill your chosen flower pot or container nearly full with potting soil. Leave about 2 to 3 inches at the pot so there is room to plant the hydrangea.
Make a hole in the soil large enough to accommodate the plant's entire root ball. Be sure that both the depth and the width of the hole are large enough for the plant.
Place the hydrangea in the soil, setting it down firmly but gently so the roots are not damaged. Allow the roots to spread out naturally without forcing them in a particular direction.
Fill the hole in with the surrounding soil. Pack it down firmly so no air bubbles are around the plant. Air bubbles can interfere with growth.
Water the plant immediately after planting it so it can begin to grow and establish its roots. Growing hydrangeas in containers can pose some problems because the plants will not thrive if the soil is always wet. Be sure your flower pot has adequate draining so the roots are not always sitting in water.
Move the flower pot to the desired location. Remember that hydrangeas grow best in full sun, but in hot climates it's best to make sure the plant gets a few hours of shade, especially in the afternoon.