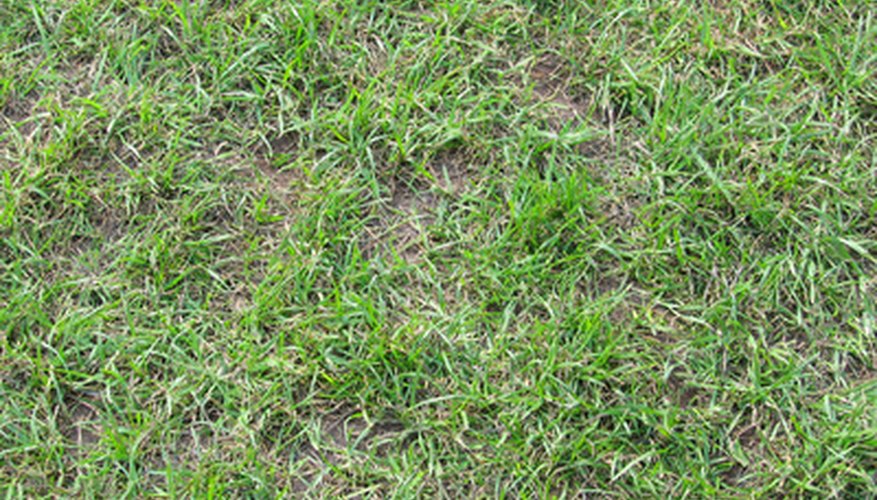 Iowa's temperate, seasonal climate favors the growth of cool-season lawn grasses including Kentucky Bluegrass, Ryegrass, Fine Fescue and Tall Fescue. Cool-season grasses grow only during the warmer months and become dormant during the cool, winter months. Choosing the appropriate cool-season grass for your Iowa lawn depends on the amount of sunlight exposure, foot traffic and required general maintenance.
Kentucky Bluegrass
Kentucky Bluegrass is a medium-textured lawn grass that forms a dense, dark green turf. Kentucky Bluegrass is not shade or drought-tolerant and requires aeration, fertilization and irrigation for best results. Kentucky Bluegrass is fast-spreading and highly recuperative, but due to its shallow root system, it is only moderately resistant to heavy foot traffic.
Ryegrass
Ryegrass is a fast spreading, dark-green colored, medium-textured lawn grass that is popular for highly-trafficked lawn areas due to its high wear-resistance. Ryegrass does not tolerate low temperatures well and often becomes dormant early in the fall months. Over-seeding, aeration and fertilization is necessary in the spring and summer to recover the turfgrass from winter damage and the extended dormant period. Ryegrass is often mixed with Kentucky Bluegrass, creating a balanced lawn that is both highly recuperative and wear resistant.
Fine Fescue
Fine Fescue is a fine textured, light-to-medium green colored, cool-season grass that is popular for its high tolerance of shady lawn environments. Fine Fescue turfgrass has a deep root system that provides high levels of drought tolerance with very little required lawn maintenance. Fine Fescue grass is a poor choice for highly-trafficked lawn areas due to its poor recuperation and wear resistance.
Tall Fescue
Tall Fescue turfgrass is a coarse textured, dark green lawn grass that requires very little general maintenance. Tall Fescue grass requires direct sunlight, is highly wear resistant and is both drought and heat tolerant. Tall Fescue grass, similar to Ryegrass, is a bunching grass that recuperates slowly from damage.
References