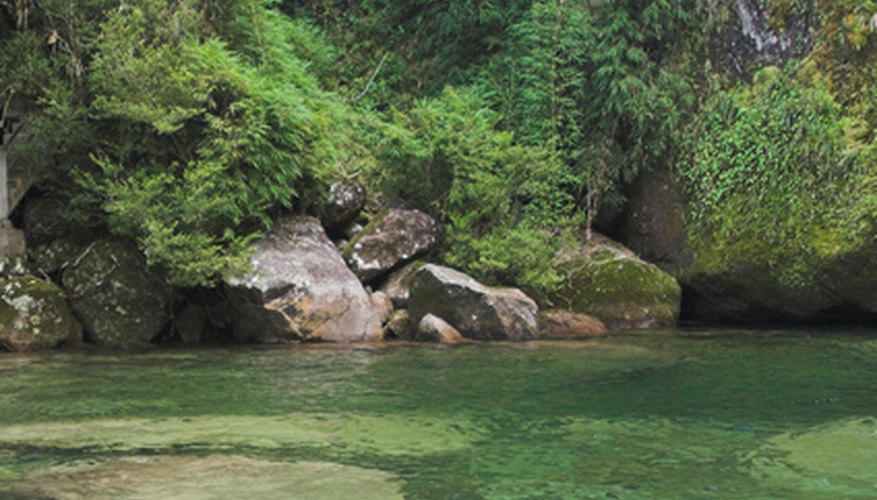 Ninety percent of Brazil is tropical. The equator crosses the Amazon rain forest in the northern part of the country, and the temperature can reach above 100 degrees in this area. The southern area of Brazil averages 60 degrees; winds keep the temperatures from soaring. Average annual rainfall in Brazil is 40 to 60 inches, but the rain forest receives more than 120 inches even with a three-month dry spell. Each element of the Brazilian climate promotes the growth of tropical and subtropical flowering plants.
Golden Trumpet Tree
Golden trumpet tree (Tabebuia chrysantha) is a small tree growing 15 to 25 feet tall. In ideal growing conditions, this deciduous tree reaches 50 feet. Silver, 4-inch long leaves have tan, fuzzy undersides and fall in April and May, the same time the trumpet-shaped flowers appear. Dense clusters of bright yellow blossoms form 2 1/2- to 8-inch groups at the ends of the branches. Brown, hairy seed capsules grow 8 inches long. The seeds last throughout the winter. Golden trumpet trees must be protected from freezing temperatures.
Princess Flower
Princess flower (Tibouchina urvilleana) is a tender evergreen bush that forms a mound of velvet green leaves 10 to 12 feet tall. The leaves are often tinted with red and have pale undersides. The 2- to 4-inch leaves wrap around the vine-like stem that reaches 15 feet. Diamond-shaped leaves frame the large bluish-purple flowers in the summer. The 3-inch flowers have petals that bend backward, forming an umbrella. The princess flower grows back quickly from frost damage.
Purpletop Verbena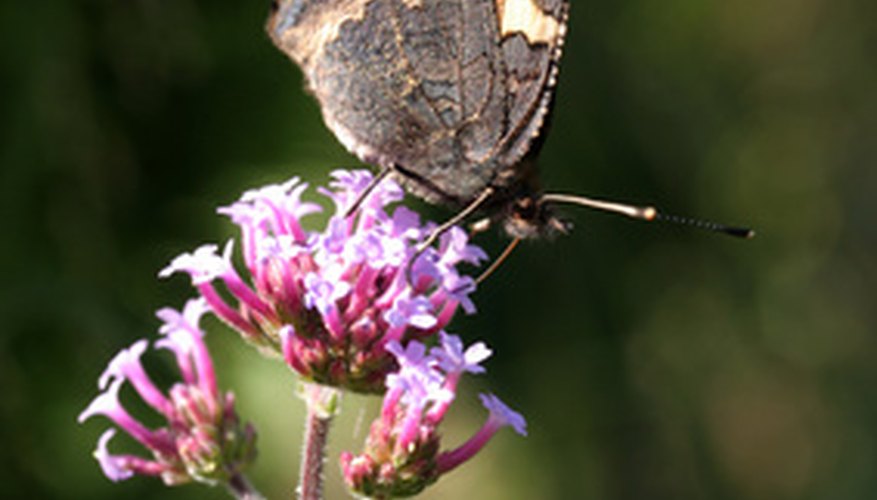 Purpletop verbena (Verbena bonariensis) is an upright, clumping perennial shrub. The stiff-branched stems reach 3 to 6 feet tall and spread 1 to 3 feet wide. Leaf rosettes mound at the base of the square stems. Purple flowers are 1/4 inch across and form round, 2- to 3-inch clusters of color. Purpletop verbena blooms from summer until the first autumn frost. This bush is drought resistant and attracts butterflies.
Silk Floss Tree
Silk floss tree (Chorisia speciosa) is a tropical, oddly branched tree growing 30 to 60 feet tall. This tree grows quickly up to 5 feet in a year when it is young. The pale green leaves are made up of five to seven leaflets. The silk floss tree develops a spreading canopy as it matures. The green trunk grows wart-like spines that turn gray as the tree ages. The leaves fall right before autumn when the tree flowers. The flowers have five petals with pale pink, rose or burgundy color at the tips. The petals fade to cream with brown spots at the origin. Pear-shaped capsules appear after the flowers are done and filled with seeds.