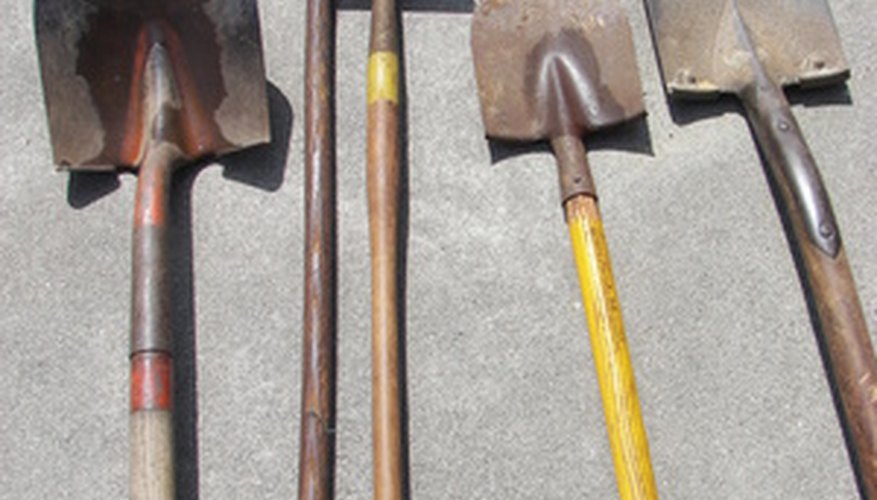 Garden hoes allow efficient weed removal from landscaping beds without the bending and pulling. A wide variety of hoes exist to perform many jobs–from stripping weeds to cultivating the soil in preparation for planting. Larger hoe blades are specifically designed for cultivation, while thinner blades cut lightly into the soil to strip out weeds. Choosing the best garden hoe will make cultivating the garden soil easier.
Loop Hoe
Loop hoes feature a circular blade attached to a long handle. Loop hoe blades have the cutting surface on the bottom of the circular area to allow for easy removal of weeds in hard to reach areas. Use this type of hoe under the canopy of plant foliage to limit bending with weed removal in these tight spaces.
Diamond Hoe
The diamond hoe obviously gets its name from the shape of the blade on this long-handled tool. Diamond hoes work on both the pushing and pulling motion. The diamond hoe features four sharpened sides for weed removal and breaking up soil. Using this type of hoe makes soil cultivation easier and allows the quick removal of errant weeds with a turn of the wrist.
Collinear Hoe
The fancy name really means this hoe works perfectly to reach hard to cultivate areas of the garden. Collinear hoes feature a thin, rectangular-shaped blade that touches just beneath the soil surface to remove weeds. Think of the collinear hoe as a type of razor that removes weeds at the surface. Collinear hoes can be used while standing upright, eliminating the need for any bending during the tough work of weed removal.
Half Moon Hoe
As you're probably figuring out, the shape of the blade often determines the name of the hoe. Half moon hoes feature a half-circle blade attached to the rounded portion of the circle to the hoe handle. This hoe works great for shallow cultivation and only works on the pull stroke. This tool can be used in the soil in front of the gardener, or in one hand on the side in a sweeping motion.
Resources