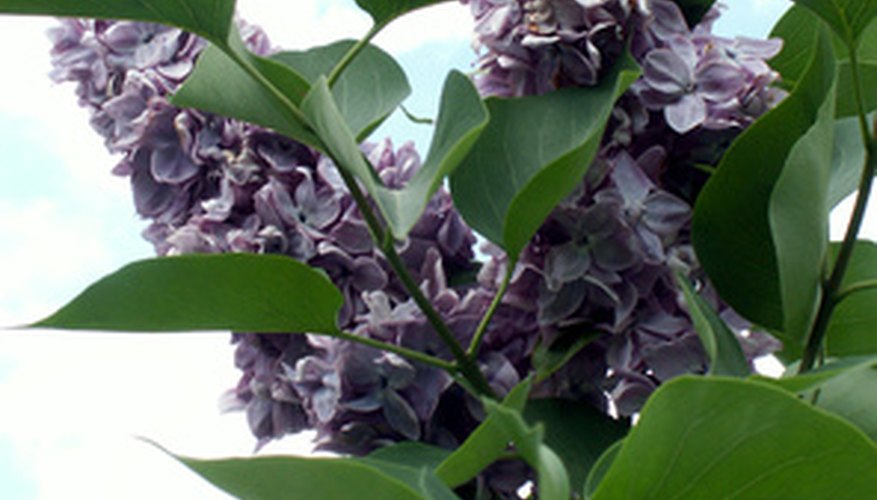 The lilac (syringa), a genus in the olive family, contains 20 species of deciduous trees or shrubs. The plants are cold-tolerant, which makes them a popular choice among Montana gardeners. Lilac trees can reach up to 15 feet in height and bloom spectacularly in May in blue, magenta, pink, purple or white sweetly-scented flowers. Plant lilac trees in Montana in early fall.
Choose a planting site for the lilac tree. It should be in an area that receives full sun all day.
Loosen the soil in the planting area by digging into it with the gardening fork. Lift the soil and turn it, crushing any large clods and getting rid of any old roots, rocks or other debris.
Lay down a 3-inch layer of compost and use the gardening fork to mix it in with the existing soil to a depth of 8 inches.
Dig a hole that is the same depth and twice the width of the pot in which the lilac tree is growing. Tip the pot on its side and gently remove the lilac tree. If it won't budge, hold your hand over the top of the pot and turn the pot upside down. Gently pull the pot off the plant with the other hand.
Place the lilac tree into the hole and backfill halfway with soil. Fill the hole with water and, when it drains, finish filling the hole with soil. Tamp around the base of the tree with your hands or feet to ensure it has adequate contact with the soil.
Water the tree until the water puddles. When it drains, apply a 3-inch layer of mulch around the base of the tree, keeping it 2 inches from the bark.
Apply tree-wrap around the trunk to protect it from the cold Montana winter. Roberta Tolan, Colorado State University Cooperative Extension agent, suggests wrapping the trunk at Thanksgiving and removing the wrap in late March or early April.