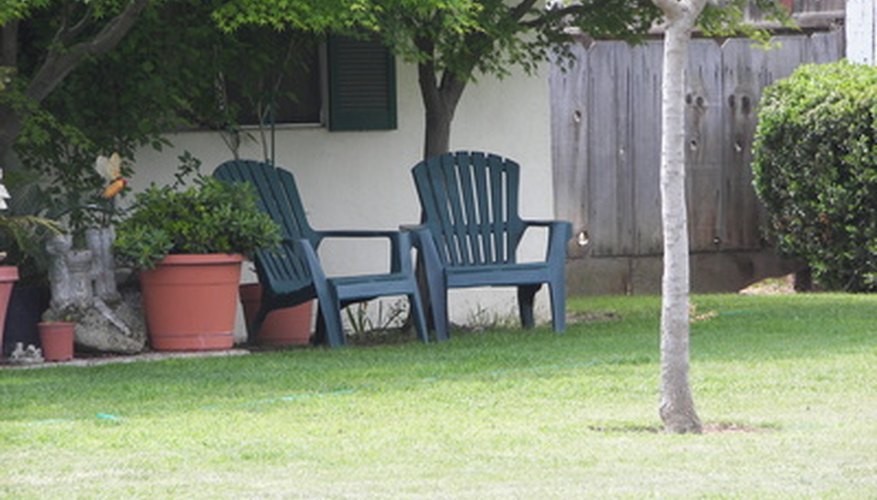 Grass provides a pleasant area for relaxing and playing games. But it also competes with other plants for available water and soil nutrients. If your lawn has encroached on any trees in your yard, you'll want to get rid of it. Herbicides are not the answer. If you apply these plant-killing chemicals around your trees, the grass won't be the only thing to die. A simple organic gardening remedy called sheet composting will remove the grass.
Cut your grass as close to the soil as possible. Use a lawnmower at its lowest setting or a weed trimmer. Be careful not to injure the trunk of the nearby trees.
Rake up the grass trimmings and add them to your compost pile. If you don't have a compost pile, you can leave the grass trimmings on the ground around your tree.
Flatten sheets of cardboard. Remove any metal staples, tape, plastic or other material that will not decompose. Or, use newspaper instead. Open the sheets and stack several pages on top of each other to make a thick layer.
Spread your flattened cardboard or newspaper sheets over the mowed grass around your trees. Anchor your newspaper or cardboard sheets with rocks. The paper will smother the grass and cause it to die. Grass will not return to the area until the newspaper or cardboard completely decomposes and more grass creeps into the area from the nearby lawn.
Cover the cardboard or newspaper with wood chips, sawdust, gravel or other material to improve its appearance and also to keep it in place.
Things You Will Need
Lawn mower

Weed trimmer

Rake

Cardboard

Newspaper

Rocks

Wood chips, sawdust or gravel
Tip
Use a combination of flattened cardboard and newspaper if you have a shortage of one of these materials.