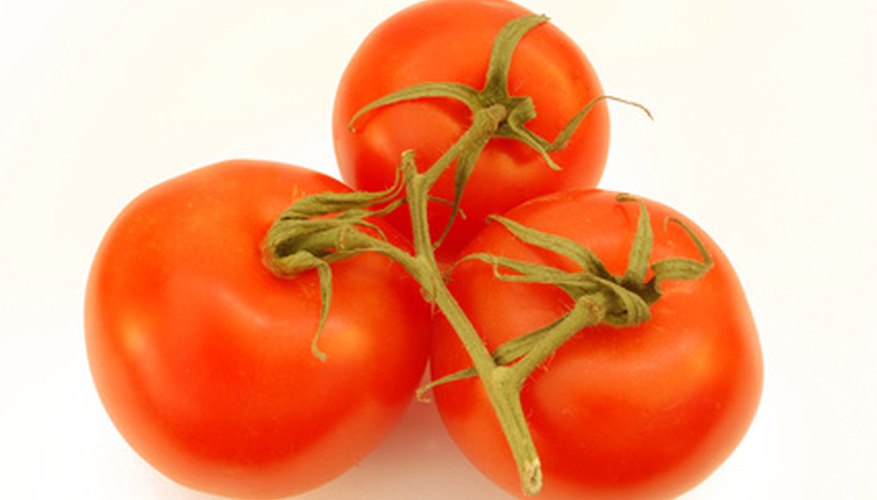 At a glance, preserving tomato seeds may look like a daunting task. The seeds are small and nearly impossible to extract with your fingers. Given that tomatoes don't exactly make it easy for us, a little creativity is required to complete this task. With a little time invested, preserving tomato seeds is actually quite simple. For the small amount of work required, you'll reap the benefits for years to come.
Pick tomatoes that are just past ripe to where they are soft, but not rotten. If these are from your garden, allow them to stay on the vine until they are ready. If they have already been picked, allow them to sit in a cool, dry place until they are soft.
Slice the tomatoes in half and squeeze the seeds and pulp into a bucket or large bowl.
Add a small amount of water to the tomato seeds and pulp to help dilute it.
Place the bucket in a warm spot and allow it to sit for three to five days. The tomatoes will produce an unpleasant smell during the fermenting process, so be sure to keep this out of the house.
Add more water to the tomatoes and stir the mixture. The pulp will rise to the top and the seeds will have sunk to the bottom.
Pour off the pulp which by now will have mold on it. The mold helps to clean the seeds.
Add more water and continue to pour off the remnants that float to the top until nothing but clean seeds remain.
Pour out the excess water and rinse the seeds again with clean water once there is no more debris.
Place the seeds on a clean cloth or paper bag and set them in a cool, dry place for 10 to 15 days to dry out.
Scrape the dried seeds into an airtight plastic bag or jar.
Store the seeds in a cool, dry place out of direct sunlight for as long as you want to use in the future. Preserved seeds can last for 10 to 50 years.