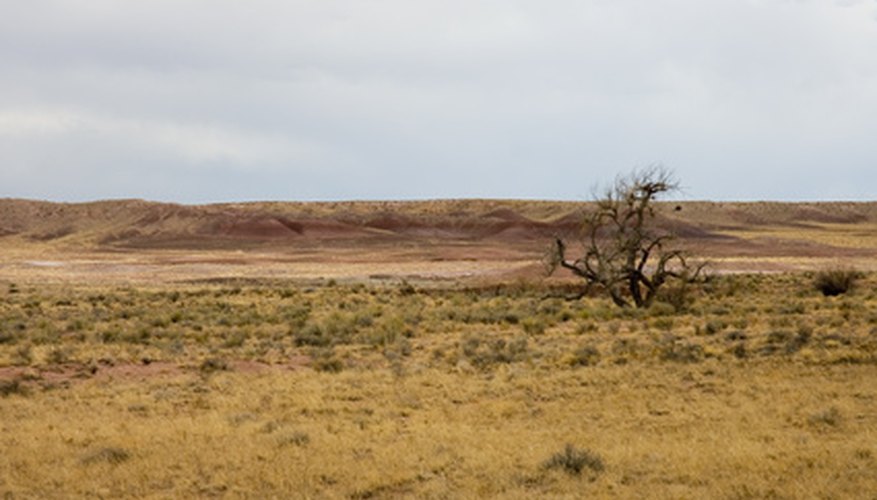 The abundant weed and grass types found in the southwestern state of Arizona grow in either select areas or throughout the state. Known for its desert landscape, hot summers and mild winters, Arizona's native and introduced plant life includes weed and grass species that oftentimes belong to the same botanical family. These species have characteristics of both wild grasses and unwanted or invasive weeds.
Wild Oat
An annual member of the Poaceae or Gramineae (grass) family, wild oat (Avena fatua) grows up to 4 feet in height. It actively grows from fall through spring, and its small yellow flowers bloom in mid spring. It grows in full sun and moist to dry soils. The University of Arizona Press states that wild oat is a highly problematic winter crop pest throughout Arizona. Its other common names include flaxgrass, oatgrass and wheat oats.
Rescue Brome
Also known as rescue grass, this member of the Poaceae or Gramineae grass family is an annual, biennial or perennial species originally from South America. Rescue brome (Bromus catharticus) grows to 3 feet in height and is found throughout Tucson and southern Arizona. It grows from fall through spring and blooms its yellow flowers in early spring. It thrives in moist soils and full sun. This weed invades lawns and gardens and appears along roadsides and other public locations.
Southern Cupgrass
Another member of the Gramineae or Poaceae grass family that has problematic weed behavior throughout most of southern Arizona, southern cupgrass (Eriochloa gracilis) reaches 3 feet in height and rapidly spreads by seed and root extensions. It resembles crabgrass, and it flowers from summer through fall.
Stinkgrass
Stinkgrass or strong-scented grass is a member of the Gramineae or grass family originally from Europe. An annual that reaches 2 feet in length, stinkgrass (Eragrostis cilianensis) grows in a spreading, prostrate pattern and flowers from late spring through the fall. Stinkgrass's active weed activity occurs from the beginning of summer through the fall, where it intermingles with a variety of crops as well as in gardens and along roads in Arizona.
Sand Peppergrass
A bushy member of the Cruciferae or mustard family, Sand peppergrass (Lepidium lasiocarpum) grows throughout Arizona—in the sandy soils of fields and waste areas, near rivers and hillsides. Sand peppergrass grows just over 1 foot tall and produces small white flowers from winter through summer.
Annual Bluegrass
Also known as walkgrass, annual bluegrass (Poa annua) is originally from Europe and grows throughout Arizona's moist areas. It typically invades lawns as a short-lived spreading grass that rapidly dies off and leaves brown patches. A low-growing member of the Gramineae or grass family, annual bluegrass grows to 1 foot in height and flowers from early spring through late summer.
Yellow Nutsedge
Regarded as a prohibited noxious weed in Arizona, yellow nutsedge (Cyperus esculentus) is a perennial member of the Cyperaceae or sedge family originally from the Old World. It grows to 3 feet in height and is found throughout the state. Yellow nutsedge grows in moist or wet soils and invades crop fields and pastures and grows along roadsides and streams.