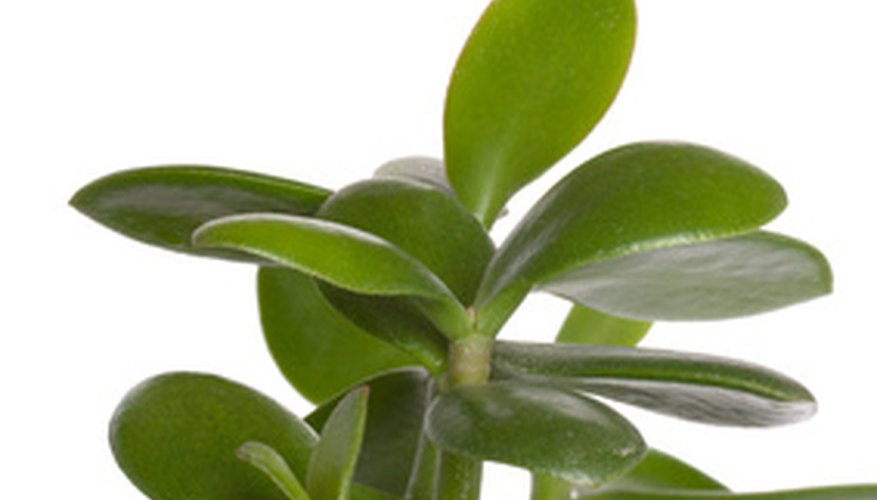 The jade tree is a succulent plant that thrives in dry, warm areas with higher humidity levels. This tree is a low growing shrub that develops rich-green foliage with reddish hues and a thick trunk. It flowers white blooms during its growing season, though many jades may never bloom. Like most succulents, the jade tree has very few demands and is easily cultivated. It requires infrequent watering, moderate sunlight and will adapt to most soils. The jade is a resilient tree but is susceptible to several diseases.
Powdery Mildew
Powdery mildew is a fungal disease that infects the foliage of the jade plant. Infected jade plants will develop small white to grayish patches on the underside of its leaves. The spots will multiply, eventually appearing as a powdery cover or film. As the disease progresses, these spots will blacken and begin to kill the infected tissue. Powdery mildew develops in cool, dry areas with poor air circulation and little sunlight. The disease can be treated and controlled by improving the jade's air circulation and sunlight levels. Fungicidal treatments are also effective when combined with location improvements.
Leaf Spot
Leaf spot is fungal pathogen that can be caused by an array of agents, from insects to air pollutants. This fungal disease travels by fungal spores that rest on old leaves and debris around the tree. The spores are then transported by wind onto the leaves of the jade. Once in place, the spores germinate and infect the foliage. Infected jade plants develop colored-spots with a red or purplish border, which eventually deaden the area. Leaf spot thrives in cool, damp areas. Fungicidal treatments will aid in controlling the disease when treated in a timely fashion.
Sooty Mold
Sooty mold is a causal fungal disease that develops on the surface of the jade's foliage. This fungus attacks the honeydew that is secreted from the plant after being fed on by sucking-insects. Once the fungus infects the honeydew, the foliage develops blackish-colored soot. The soot will begin in small places across the foliage but will grow and spread, if left untreated. Though the mold does not infect the jade plant, the jade plant can be affected. The lack of light and air penetration will eventually choke the plant, which will result in dieback and growth stunt. This disease is easily treated by wiping off the soot from the jade's foliage with a clean cloth, warm water and fungal soap. However, controlling and curing the disease requires treatment of the insect infestation, which you control with an insecticidal spray.