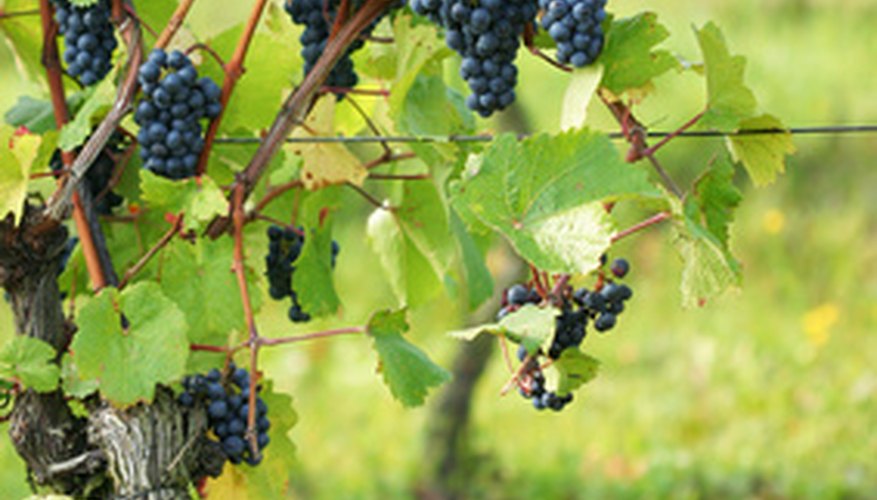 A simple way to grow more grape vines is to take cuttings from an existing and healthy plant. The trick with taking such cuttings is getting the cuttings to sprout roots where they once sprouted leaves. Rooting grape vines can be easy with the right care, attention and patience. Taken just before the winter months, your cuttings can be growing happily indoors through the spring and will be ready for planting out by the summer.
Select healthy, 1- to 2-year-old vines in late fall to take cuttings from which are well-ripened and not green. Cut off pencil-thick stems with your shears and trim them to 9 to 12 inches long with each end of the cutting having a bud on it.
Place your plastic bag in your pot so the base of the bag lines the inside of the pot with the excess of the bag folded over the outer edge of the pot. Fill the pot halfway with a mixture of equal parts potting soil and compost. One pot can support six cuttings, so prepare a second or third pot depending on your needs.
Work with one cutting at a time to dip the bottom end of each cutting into the water followed by a quick dip into the hormone powder to coat the end. Stick the base of the cutting into the potting mixture about 1 inch deep and continue to put up to six cuttings an equal distance apart in the pot.
Add more potting mixture to fill the pot once all of the cuttings are in place. Each cutting should have the top bud sticking up out of the pot. Add a small amount of water to the pot just enough to moisten the potting mix without making it soaking wet.
Pull the excess top of the bag up and around the cuttings to form a balloon shape around the top. Secure the bag shut with a twist tie or piece of string to seal the moisture in.
Set the pot in a warm window away from direct sunlight, or on top of your refrigerator, and watch for new growth to appear in two to three weeks. Leave the pots alone, opening the bag only to add water if the soil looks dry, until the stems above the soil line are 9 inches tall.
Pot the 9-inch stems into their own, individual uncovered pots for further growth and allow exposure to sunlight with regular watering to maintain a moist soil. These plants can be transplanted outdoors after they are 4 to 5 feet tall.