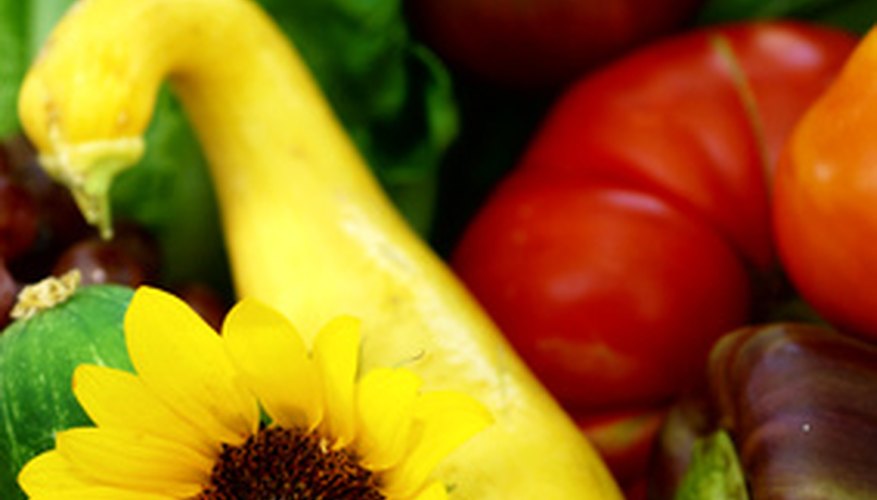 Sandy soil presents a special challenge for vegetable gardeners. Sandy soil drains quickly, drying out a plant's root system. The quick-draining action also leaches many of the nutrients out of the soil, making it difficult for vegetable plants to thrive. Many areas of the country have naturally sandy soil. If you live in one of these areas, prepare the soil before planting. Gardening in sandy soil requires more maintenance than a garden with rich, loamy soil, which is the ideal type of gardening soil according to the University of Rhode Island Extension Service.
Add a layer of organic matter to the garden area. The ideal method of dealing with sandy soil is to mix 2 to 3 inches of silt or clay into the sand, according to Oregon State University's Extension Office. This is an expensive process, so an alternative, also recommended by OSU, is to add several inches of organic matter, such as aged manure, peat moss or compost, or any combination of organic matter, to the soil. The organic matter will improve the moisture-holding properties of the sandy soil and increase the amount of nutrients available to the plants.
Till the organic matter into the top 7 inches of soil. Use a hoe or garden tiller to mix the organic matter thoroughly into the top layer of soil. Tilling down about 7 inches ensures the enriched soil extends into the area where the vegetable roots will grow as they mature.
Continue to till until the soil and organic matter are thoroughly mixed and a crumbly consistency. Integrate the sandy soil and organic matter thoroughly so the organic matter does not separate from the sandy soil and form clumps when it rains. Till the area until you cannot distinguish between the original soil and the amendments.
Plant your vegetable garden.
Regularly check the moisture level in the garden to ensure your plants do not dehydrate. Even with the addition of organic materials, the sandy soil will continue to drain more quickly. Keep a close watch on your vegetables, particularly during dry periods.