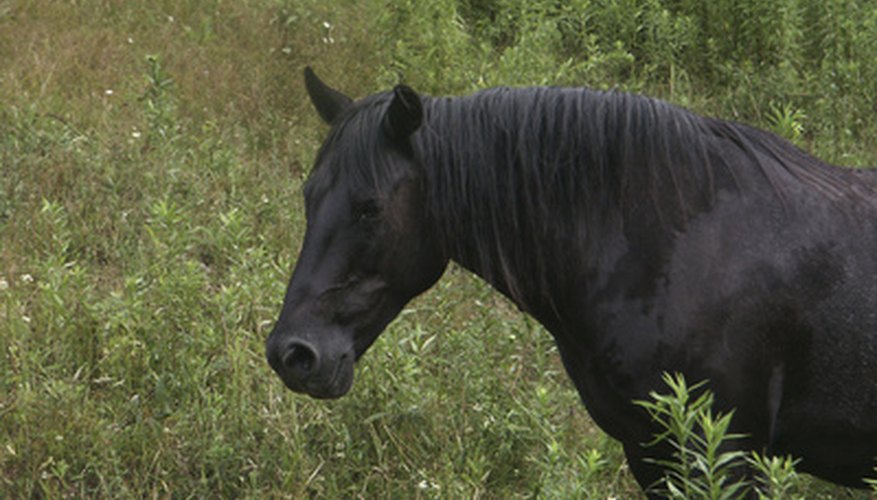 If you have horses and a horse pasture, it's important to plant the right grass for the horses to graze happily and healthily on when out to pasture. The ability to plant grass for the horses to graze will save money on the feed bill. Many different types of pasture grass will provide additional feeding for horses.
Smooth Bromegrass
Smooth bromegrass is drought resistant and can be grown in southern and northern states. This grass type does require more care than other grasses because close grazing can cause it to die out and weeds can take over rather quickly. The grass provides good nutrition in spring, early summer, late summer and early fall. Bromegrass is a good mix with alfalfa.
Orchard Grass
Orchard grass is ideal for grazing grass except it is not drought-resistant. The grass can hold up under close grazing and is comparable to Kentucky bluegrass. It is a good pasture grass in the northern states. It can mixed with alfalfa, bromegrass and white clover for a variety.
Kentucky Bluegrass
Horse owners use Kentucky bluegrass because of its ability to adapt to different regions and soil types. The grass is high in nutritional value and can withstand trampling by horses. The Kentucky bluegrass is a winter hardy variety, but cannot tolerate dry conditions.
Intermediate Wheatgrass
Intermediate wheatgrass should be planted with other grass types and alfalfa. The grass is tolerant of dry conditions and trampling, but is not tolerant of close grazing. The wheatgrass makes a good grass to plant with other grass types that grow well in the region.
Bermuda Grass
For warm southern states, the Bermuda grass makes excellent pasture grass. The grass tolerates trampling and can withstand moderate grazing. Bermuda grass is tough and must have a recovery period between grazing and growing, which makes it ideal for segregated grazing.
Crabgrass
Crabgrass can grow under hotter conditions and is good for grazing in fall. It can be used in pastures with Bermuda grass and bromegrass. During the summer the crabgrass is tilled under, and it is ready for grazing in fall and winter.