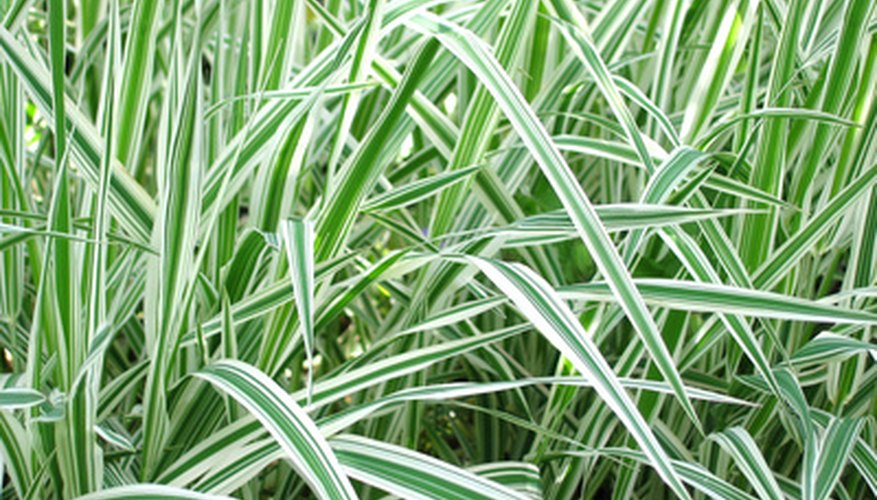 Ornamental grasses are either bunch-type grasses or they spread aggressively by rhizomes or runners. Several varieties grow 20 feet tall and others remain small. Ornamental grasses are popular for landscaping because they're easy to care for and produce interesting foliage and showy seed heads. In the winter and fall, the dried foliage and seed heads add interest to the landscape.
Giant Reed
Giant reed (Arundo donax) grows up to 20 feet tall and produces large outstanding seed heads. Giant reed is one of the largest varieties of ornamental grasses and grows in most soils as long as adequate moisture is available. The tall bamboo-like stems are used to make fishing poles and reeds for woodwind instruments—and can be used in landscaping for screens, tall borders and erosion control. Giant reed is one of the few types of ornamental grasses that spreads by underground rhizomes and is considered an invasive species in parts of the southern United States.
Pampas Grass
Pampas grass (Cortaderia selloana) is a popular grass for landscaping in the south. It can be used as a single specimen or as a hedge. Pampas grass has sharp leaves that cut your skin, so it should be planted away from areas where people may have contact with the plant. However, the dramatic plumes, or seed heads, of white or pink produced during the summer is the desirable feature that makes pampas grass a popular landscaping plant. The eventual height of pampas grass is 15 feet, including the seed heads.
Northern Sea Oats
Northern sea oats (Chasmanthium latifolium) have bright green foliage and grow up to 48 inches tall, including the interesting seed heads. They make good ornamental grasses to plant in shady areas, although they grow best in direct sun. For propagation, divide the roots in the fall. Northern sea oats, however, reseed freely and can form thick mats in just a few years.
Purple Fountain Grass
Purple fountain grass (Pennisetum setaceum "Rubrum") is a heat-tolerant ornamental grass with dark purple leaves and decorative dark purple seed heads. It grows to 36 inches tall and is a highly desirable specimen plant. However, purple fountain grass is not frost tolerant and is treated as an annual in most of the U.S.