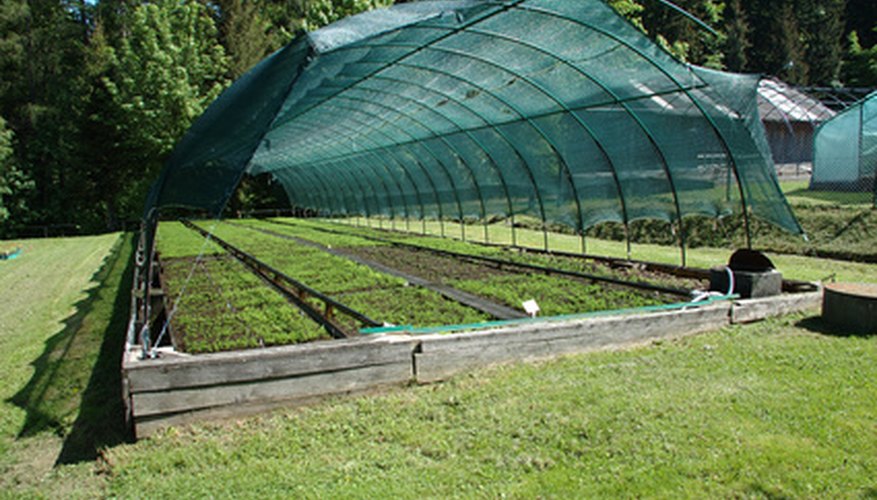 Greenhouses provide plants with a controlled or enhanced environment. Home gardeners and commercial growers alike employ greenhouses as seed starters, to grow plants that are not indigenous to the region or to extend the growing season and provide plants throughout the year. How you intend to use your greenhouse will factor into your decision regarding what type of greenhouse you select for your plants.
Hot House
For plants accustomed to tropical climates, or exotic plants such as orchids, a hot greenhouse is appropriate. This type of greenhouse maintains a temperature of 65 degrees Fahrenheit and has a humid environment. You may need heat lamps and grow lights within the greenhouse to maintain the temperature and humidity levels.
Warm House
The warm greenhouse is kept at 50 to 55 degrees Fahrenheit, and is suitable for flowers, vegetables and fruits typically grown in warm weather seasons. The advantage of the warm greenhouse is you can extend your growing season into the colder winter months by adding heat lamps and grow lights without raising the interior temperature.
Cool House
The cool greenhouse requires temperatures between 40 and 45 degrees Fahrenheit. Use this type of greenhouse for starting seeds and hardening off seedlings. Cultivate cool weather crops as well, such as chard, leafy greens and peas.
Attached
The interior control of your greenhouse is dependent on such features as lighting, heating and ventilation as well as the materials you use. The structural type of greenhouse you require may be influenced by budget, available space and the aesthetics of your landscaping.
An attached greenhouse is secured to an exterior wall of your home. The three sides are enclosed and your exterior wall makes the fourth side. Access your greenhouse directly from an exterior door, not from inside your home. This maintains the integrity of the interior.
Detached
A detached greenhouse stands as a separate structure. Such a structure may consist of glass or plastic secured to a frame. Kits for detached greenhouses are available and cost is dependent on size, materials used and interior features such as lamps and flooring. Plans are also available for detached greenhouses, should you be inclined to build your own greenhouse.
Frames
Attached and detached greenhouses may include a poured concrete foundation. You can use a framed greenhouse in which the overhead and side support structure is anchored directly into the ground. This overhead of plastic or other sheeting material creates a type of frame, either arcing or A-shaped, that provides a greenhouse effect for your plants.
The two ends of the framed greenhouse may be left open, creating an enhanced and protective environment for in-ground plants. A framed greenhouse may also be enclosed, with the structure sitting directly on the ground.