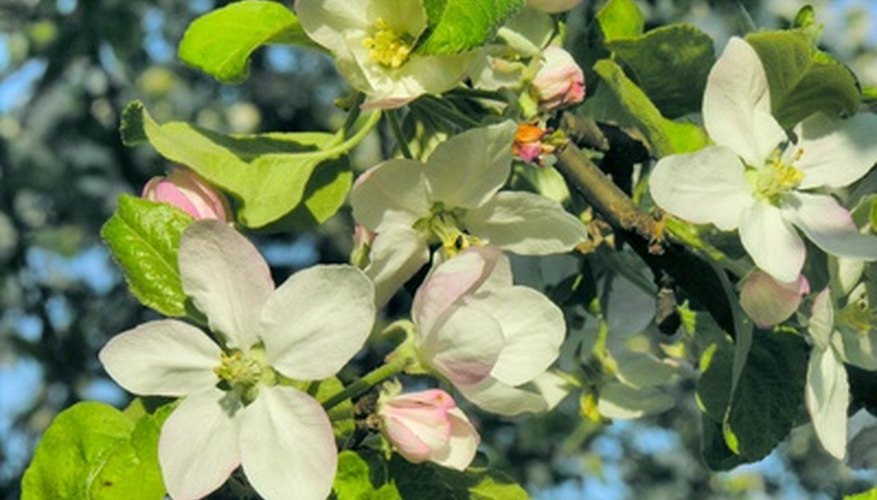 An apple tree will provide blossoms for beauty in the spring, fruit for the fall and hardwood for smoking your meat year-round. You usually will need to have two trees for good fruit pollination, and you can easily do this by rooting a branch from an existing tree.
Take a cutting from the healthy apple tree. It should be about 6 to 8 inches long and include a growing tip and two or three sets of leaf buds. (You should do this in early spring before the tree buds out.) Keep the cutting moist while you transport it indoors.
Remove a quarter-inch of bark all around the cutting just below the last leaf bud. Take care to remove only the bark, and not cut into the cambium below, using a clean and sharp blade.
Prepare your container by filling it about 6 inches deep with the rooting medium that you have dampened. You can do this in a tube-like container or you can do several cuttings in one larger container. Typically, apple cuttings are challenging to root, so start with several samples in hopes that at least a couple cuttings will root.
Dampen the cutting by dipping it in water and then into some rooting power. This powder will stimulate the plant to produce roots, much like the plant's growth hormones. Poke a hole into the prepared rooting medium with the back of a pencil and then set the cutting in place.
Press the soil in around the cuttings to make sure it gets good root-to-soil contact. Water the soil lightly. Place the whole container into an area that is totally dark. This is called etiolating when you deprive the plant of light. Leave it undisturbed for about four to six weeks.
Check the cuttings for signs of growth. When leaves are budding, it is time to move the cutting up to a sunny spot. You can transplant this rooted cutting outside to a permanent spot when the weather has warmed the soil above freezing.
Things You Will Need
Pruning shears

Rooting mixture (peat moss, perlite, sand)

Container

Rooting hormone powder