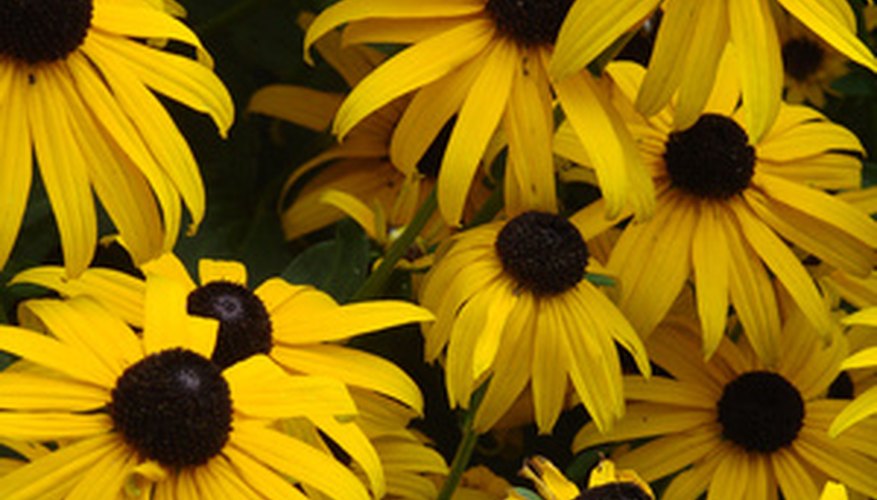 black eyed susans image by Pix by Marti from Fotolia.com
Perennial flowers have the ability to come back each year fuller and healthier and are grown in an endless variety of textures, shapes and sizes. Perennial flowers are also grown in a wide range of colors, including orange and yellow, to create a colorful presence to flower beds, borders, rock gardens and containers. Some perennial blooms are drought-tolerant and help to create an unfussy, low-maintenance garden.
Black-eyed Susan
Black-eyed Susans are perennial flowers with yellow flower heads that grow in upright clumps. The daisy-like blossoms are prolific bloomers and grow up to 3 inches wide with a brown center to contrast with the bright petals. These early summer-blooming flowers have a long bloom period that lasts until the first frost. Black-eyed Susans grow between 1 and 3 feet tall and wide and are ideal flowers planted along a flower bed or border. They prefer full sun to partial shade and well-drained soil. Cut back the black-eyed Susans after the first round of flowering to produce a second bloom to last into late fall. Black-eyed Susans also make ideal fresh cut flowers for long-lasting arrangements. They will thrive in USDA hardiness zones 3 to 7.
Brazilian Orange Daylily
Brazilian orange daylily is a perennial flower with orange, rounded blooms and a moderate growth rate. This hardy flower has ruffled edges and grows between 1 and 3 feet tall and wide. The clump form has long, arching stems that hold the six-petal flower that only last one day, hence the name daylily. Daylily blooms open in the morning and last until the evening and attract butterflies to the garden. They are also drought-tolerant flowers that prefer nutrient-laden soils. Daylilies require a medium amount of moisture and well-drained soils. The USDA hardiness zone is 3 to 10.
Sunray Coreopsis
Sunray coreopsis is a perennial flower with a semi-double to double yellow bloom that emerges in late spring to last through the summer. The leaves on the coreopsis are dark green and narrow with three to five lobes. Coreopsis flowers grow between 1 and 3 feet high and wide and have a moderate growth rate. These bright blooms are striking nestled within a flower border or in containers. Coreopsis blooms require full sun to part shade and well-drained, fertile soil that is moist. Deadhead, or remove spent blooms, during the growing season to promote new bloom growth. Coreopsis blooms are ideal for fresh cut flowers. They grow in USDA hardiness zones 4 to 9.
Resources