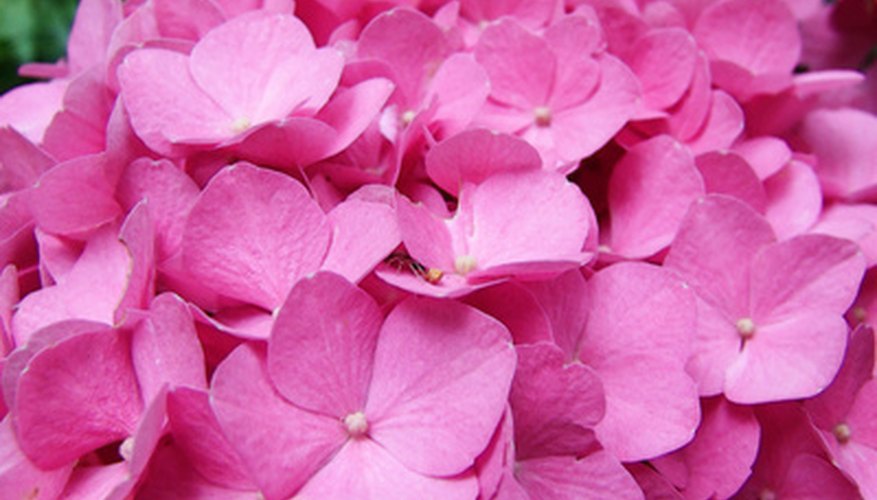 Native plants and flowers in Georgia can survive winter temperatures that get as low as minus 5 degrees F and temperatures as warm as northern Florida. Warm temperatures mean long flowering seasons and plants that do well in shady areas. Plant large trees for shade in a yard, flowering shrubs that can grow under the trees, flowers that can grow in the shade of the house, and vines that need full sun and will climb as high as necessary to get it.
American Sweetgum
American sweetgum (Liquidambar styraciflua) is a deciduous shade tree that grows 60 to 100 feet tall and 40 to 60 feet wide. The tree produces green, star-shaped leaves similar to those of the maple tree that grow from 4 to 8 inches long and wide. They turn orange, red, burgundy or purple in the fall. Small yellow-green flowers appear in May to be followed by 1- to 1-½-inch round, green fruit that changes to brown as they mature. American sweetgum does best when grown in full sun and moist soils but can take partial shade and can be grown in all areas of Georgia.
Oakleaf Hydrangea
Oakleaf hydrangea (Hydrangea quercifolia) is a deciduous shrub that grows 6 to 10 feet tall. The plant produces leaves that grow 4 to 12 inches long and are yellow-green on the top and white and fuzzy on the bottom. The larger leaves are found on plants that are grown in shade. The flowers appear as white, turn pink and finally a rusty-brown in fall at the same time the leaves turn to red, bronze or purple. They grow in 6- to 12-inch tall and 3- to 5-inch wide, cone-shaped clusters at the end of the branches. Plant oakleaf hydrangea in partial to almost full shade where it gets the sun in the morning and the shade in the afternoon, and in a moist soil. Oakleaf hydrangea can be grown in all areas of Georgia.
Eastern Shooting Star
Eastern shooting star (Dodecatheon meadia) also is known as Pride-of-Ohio, roosterheads, and shootingstar. The plant produces leaves that form the base and flower stalks that grow 6 to 20 inches tall, dividing into several branches at the top. Each branch will produce one white or pink star-shaped flower. Plant Eastern shooting star in partial shade and in a moist sandy soil. Eastern shooting star can be grown in all of Gerogia.
American Wisteria
American wisteria (Wisteria frutescens) is a vine that grows up to 50 feet long. The plant produces leaves that are made up of nine to 15 small leaflets and grow to 12 inches long. Purple-blue flowers grow in clusters that grow to about 6 inches long. Plant American wisteria in full sun and soil that is just moist to get the best performance out of the plant. American wisteria can be grown in all of Georgia.