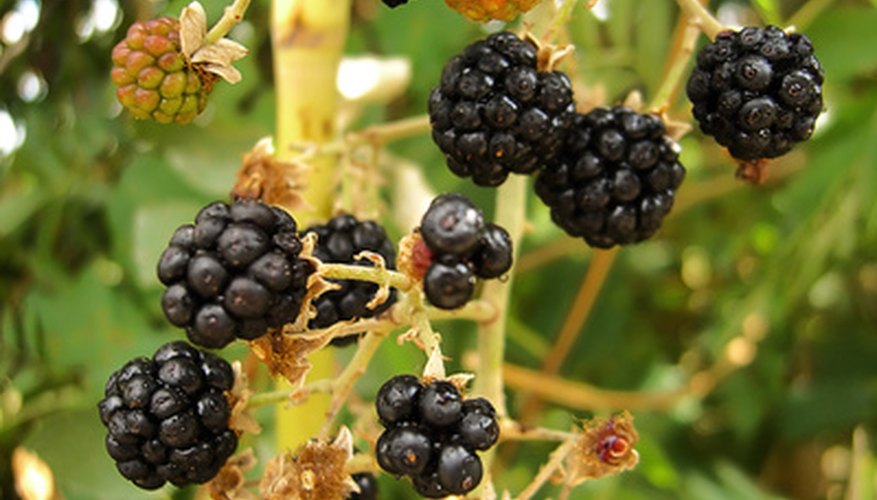 Amoras Silvestres image by Mauro Rodrigues from Fotolia.com
In early summer when the temperatures just begin to warm up, keep your eyes peeled for a mulberry patch. Mulberries grow wild in many areas, and many gardeners enjoy adding mulberries to their home landscape as well. Once you gather your bounty, prepare for a delicious treat. Whether you eat them fresh or add a little sugar and whipped cream, eat them quickly because mulberries do not keep for more than a day or two.
Store unwashed mulberries in the refrigerator in an open container.
Place mulberries into a colander and wash them immediately before you use them. Run cool water over the mulberries to rinse them thoroughly. As you rinse the berries, use your fingers to lightly sort and rub the berries. If you find any berries with green worms, discard these berries and the worms. Remove any stems that remain on the berries.
Line a baking sheet with several layers of paper towels. Shake the colander in the sink to remove as much excess water as possible and pour the washed mulberries onto the lined baking sheet. Spread the berries out and pat the tops of the berries gently with more paper towels to remove as much water as possible. Eat the berries plain or proceed to the next step.
Place the berries into a large bowl. Sprinkle a liberal amount of granulated sugar over the berries (as much as you desire). Lightly toss the berries and the sugar with a large spoon. Add whipped cream to the berries. Use approximately ½ cup of whipped cream for each pint of berries. Fold the whipped cream into the berries gently. Serve the mulberries immediately.
Things You Will Need
Mulberries

Colander

Plastic gloves

Apron

Baking sheet

Paper towels

Large bowl

Large spoon

Sugar

Whipped cream
Warning
Wear an apron and plastic gloves as you prepare the mulberries to avoid the intense purple stains from these berries. Handling mulberries will stain your fingers and will stain clothing as well.