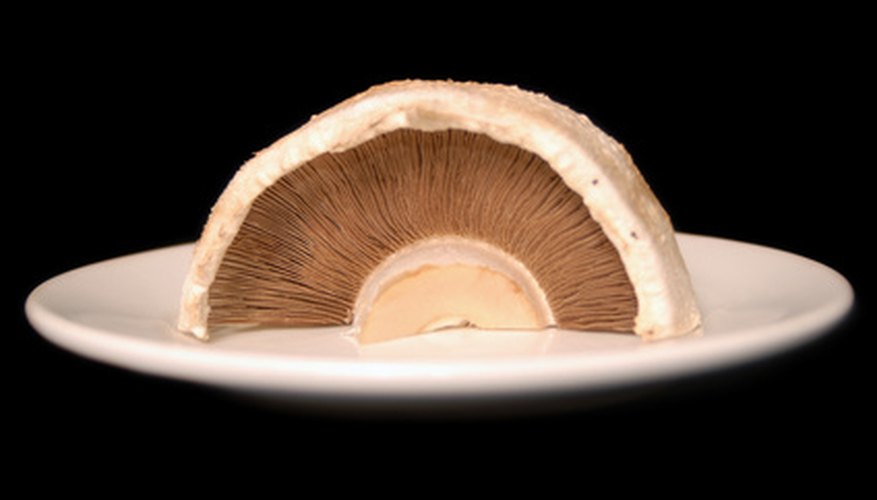 Many cooks enjoy adding portobello mushrooms to their culinary creations. When portobello mushrooms complement your recipes, the result is a nutty, earthy taste that you cannot create with any other ingredient. Whether you grow your own portobello mushrooms or you purchase them from the store, choose portobellos that appear firm and dry for best results. Store portobellos in the refrigerator for up to one week. How you clean a portobello mushroom is dependent on personal preference. Some cooks use only a dry paper towel to clean them and others prefer to rinse portobello mushrooms under cool water.
Place the portobello mushrooms into the colander when you are ready to prepare them. Moisten a paper towel slightly and use it to wipe all of the surfaces gently. Alternatively, use a small piece of damp cheesecloth or a vegetable brush to gently clean the surfaces of the portobello mushrooms.
Leave the mushrooms in the colander and run a small stream of cool water over the mushrooms for several seconds. Stop the water and use your fingers to rub the surfaces of the mushrooms lightly to wash them. While not mandatory, washing portobellos with water is acceptable as long as you prepare them immediately after you wash them because the water will change the outside surface of the mushrooms. Pat the mushrooms dry lightly with a paper towel.
Remove the gills if you desire. The gills are on the undersides of the mushrooms and they connect to the mushroom stems. Because the gills often add an intense brown color to dishes, some cooks prefer to remove them before adding the portobello mushrooms to recipes. Use the tip of the small spoon to scrape away the gills,