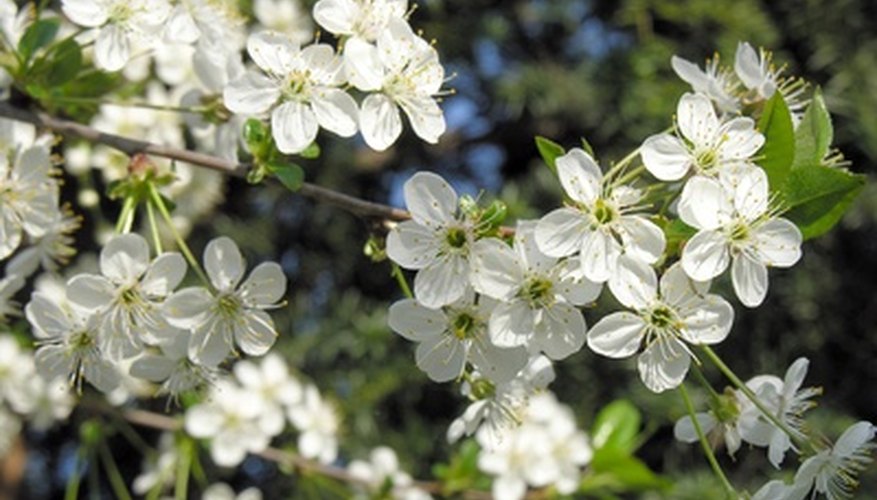 Forests, according to Ohio's Division of Forestry and the Ohio State University Extension, cover one-third of the Buckeye state. The forest's white flower trees fill the spring and early summer landscape with color and fragrance. Many provide nuts and fruits to feed people and wildlife. Their branches shelter nesting birds. Adding some of Ohio's flowering trees to your home garden will supply shade and fall interest long after their blooms have fallen.
Blackhaw
A small, tidy round tree, blackhaw (viburnum prunifolium) grows wild along Ohio's roadsides and woodland edges. Seldom more than 30 feet high, blackhaw is a good choice for small landscaping projects. Large buds appearing on its winter branches open into showy clusters of white flowers in mid to late spring.
Pale green berries follow in summer, progressing through a series of attractive color changes as they ripen to blue-black in late autumn. The berries, food for birds and small mammals, are also suitable for preserves and pies.
Blackhaw trees grow in sun or shade and like moist, well-drained soil but aren't particular about soil pH. While trees may experience powdery mildew, they are otherwise disease- and pest-resistant.
Ohio Pioneer Hawthorn
Discovered in a Wooster, Ohio, arboretum in 1962, Ohio Pioneer is a thornless variety of dotted hawthorn (Crataegus punctata). Dotted hawthorns usually stand 25 to 30 feet tall, with horizontal branches and relatively flat crowns. Dotted hawthorn's thorny spikes can be 3 inches long.
Ohio Pioneer, says the Missouri Botanical Garden, produces dense clusters of small fragrant white flower in May and June, making an eye-catching contrast with the green leaves. In late summer, small crab apple-like fruit appears. White spots on the red fruit account for dotted hawthorn's name. Leaves can bring red color to the fall garden.
These trees provide three-season garden interest. They are effective as single specimens, in small groups or pruned in late winter to hedges. Plant them in full sun to partial shade and in moist, well-drained soil where dropped fruit won't be a concern.
American Plum
Growing wild throughout Ohio, American plum (Prunus Americana) is one of the earliest blooming and most fragrant of Ohio's white flower trees. This member of the rose family thrives along forest edges and stream banks, flowering in April or early May before its leaves emerge. Trees spread by root suckers, often forming groups that fill the Ohio woods with clouds of white.
American plum has a short, irregular trunk with dense spreading branches. Its height seldom exceeds 35 feet. The summer plums, yellow ripening to deep red, are edible straight from the tree. They also make excellent jam or jelly. Birds find them hard to resist.
Like other members of the rose family, American plum has thorny branches. All parts of the trees except for the plum's skin and pulp are toxic. Plant trees in sun or shade and moist, rich pH-neutral loam.