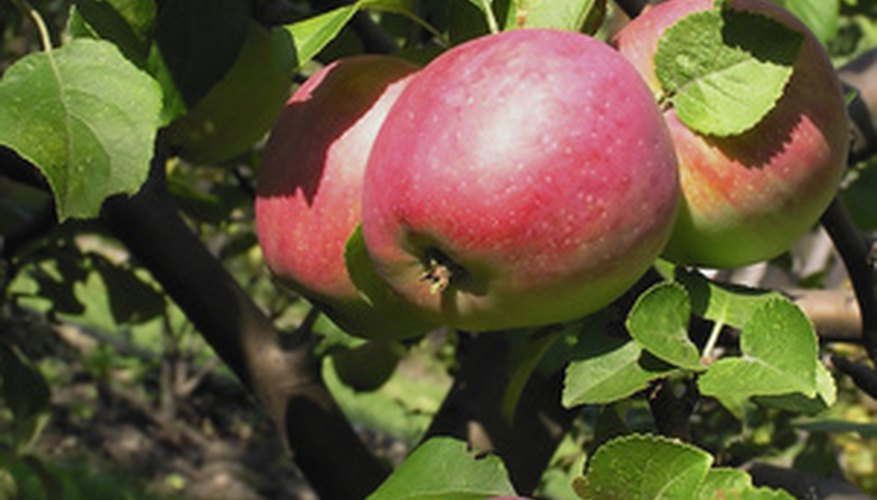 The University of Minnesota has developed many varieties of apples that have been tested and have survived unprotected in the brutally cold winters from most parts of that state.These apple varieties will survive and reliably bear a crop through USDA hardiness zone 3b. In the northernmost reaches of Minnesota, designated as USDA hardiness zone 3a, they have not shown "reliable" hardiness, but it may still be possible to grow them in a protected location or micro-climate, with temperatures that are somewhat moderated from the surrounding areas.
Early Varieties
A medium sized, sweet tasting apple with an aromatic flavor, Beacon ripens in August throughout most of Minnesota. It is excellent for eating fresh and for cooking, but has not been shown to keep reliably beyond its late summer harvest season, similar to most apple varieties that ripen during hot summer weather.
The State Fair variety, so-named because it ripens during late August, the same time that the Minnesota State Fair is held each summer. It is a red-striped apple of medium size. State Fair is crisp, juicy and moderately tart, making it an excellent cooking apple. This variety keeps slightly longer than Beacon, maintaining its quality well into the end of September.
Mid-Season Varieties
The best mid-season apple for fresh eating, Sweet Sixteen, is crisp, juicy, sweet and has an unusual taste of "cherry candy." The fruits are medium to large with stripes and a solid wash of rosy red. Sweet Sixteen keeps well through October after its main harvest in mid to late September.
Honeycrisp ripens just after Sweet Sixteen, in late September. Its medium to large fruits are red, with a dappled yellow background. Honeycrisp is true to its name and is one of the crispiest apples in cultivation. It has a well-balanced apple flavor and is very juicy. Honeycrisp is excellent for fresh eating and also in salads. It keeps its white color well after being cut and is slow to turn brown. Honeycrisp keeps its quality well through April when properly stored, maintaining its crispness and flavor for up to seven months.
Late-Season Varieties
One of the most popular and widely grown apple varieties introduced by the University of Minnesota, the Haralson, ripens in late September and early October. It is a medium sized, red striped apple with a firm texture and a tart apple flavor. It is an excellent apple for eating fresh and makes excellent pies. A good keeper, Haralson keeps well through February when properly stored. A sister variety of Haralson, called "Haralred" is an identical apple with redder skin.
Fireside is a very large apple with low-acid and a sweet flavor. It is an excellent apple for eating out of hand, for salads and for baking. Properly stored, Fireside keeps through February from harvest in mid-October. Fireside has a sister variety called "Connell Red," which has identical attributes but is more red in color.