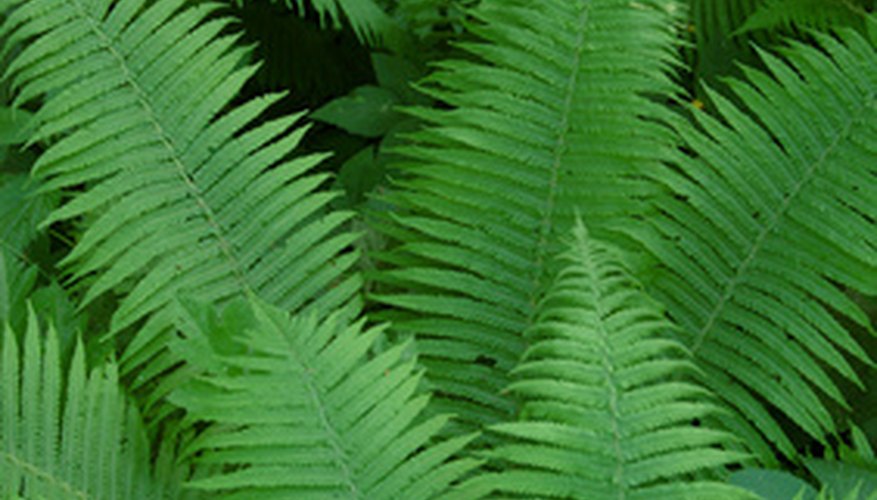 A house without foundation plantings appears disconnected from the surrounding landscape. Anchor your home to the yard around it and soften its straight, unnatural lines by planting a variety of plants near your foundation. Evergreen shrubbery is a traditional foundation planting, but many other types of plants work well and look just as good, even better, than these traditional residential foundation plantings.
Partial to Deep Shade
For the side of your home that may be in partial to deep shade, plant a variety of ferns next to the foundation. They are virtually care-free and will quickly grow to fill in their planting bed. Plant a tall variety of fern, such as the ostrich fern (Matteuccia struthiopteris) in the back next to the house and a shorter variety of fern, such as the male fern (Dryopteris filix-mas) in front of them. At the front edge of the bed as a border plant, put in snow-on-the-mountain (Euphorbia variegata). Its mottled, variegated leaves are a good contrast to the tall, spiky ferns. An alternative to snow-on-the-mountain is to create a border of lily of the valley (Convalleria majalis). The ferns and lily-of-the-valley will coexist and create a dense planting that will not even require a mulch in a few years.
Although these planting ideas have very little interest in winter, they are excellent choices for a shady side of the house that needs plant materials but sees little traffic, rather than the more visible and well-traveled front of the house that faces the street.
Partial Shade
For partial shade and a more highly visible foundation planting, put in old-fashioned hydrangeas (Hydrangea spp.); rhododendron (Rhododendron spp.); and the evergreen shrub yew (Taxus spp.). All these perennials grow and thrive in partial shade. Rhododendrons are evergreen and bloom in early spring, covering their branches with brightly colored, delicate blossoms. Hydrangeas bloom in mid to late summer, producing large, round flowers that usually dry right on the bushlike plants and will look good for most of the winter. Yew is a widely varied genus with low-growing varieties that are ideal for the front of the bed. They will soften its front edge and provide additional winter interest.
This planting idea is excellent for the front or back of the house that sees a lot of foot traffic. The rhododendron and yew are evergreen and do not drop their leaves in autumn. Hydrangeas, although they are a herbaceous perennial, retain their flowers for most of the winter, which fade to a dark tan color when dry. This planting works best with a eastern exposure, which protects the rhododendron from scorching summer sun or sunscald during winter, while hydrangea and yew both prefer to grow in partial shade.
Partial Sun to Full Sun
Hardy shrub roses, (Rosa spp.) either bush form or climbing varieties, are an excellent choice for foundation plantings on a side of the house that gets sun for most of the day. If desired, a border of the annual flower moss roses (Portulaca grandiflora) or several miniature roses will delineate the edge of the bed with their masses of brightly colored blossoms. This arrangement works best where overhanging eaves will not prevent rain from reaching the ground; roses require a lot of water. Roses are an excellent way to great guests coming up the front walk, near a patio in the back yard or simply to soften a sunny side of the house.