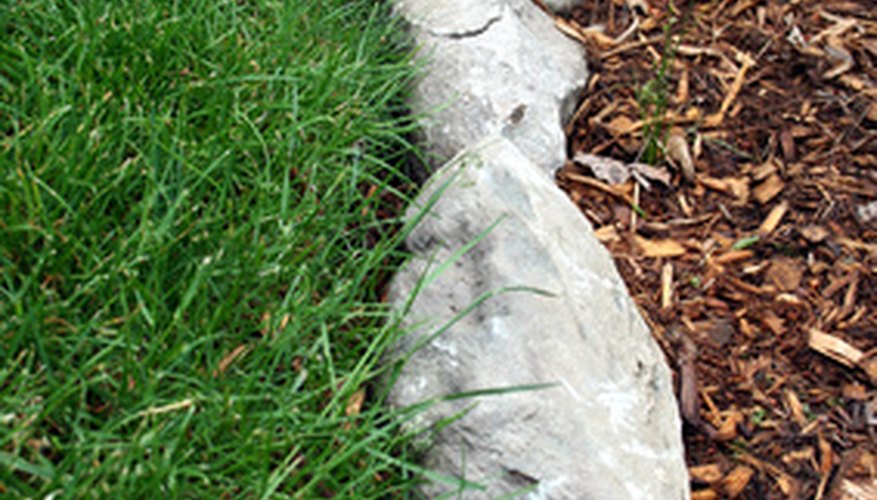 Gardeners and landscapers use garden edgings to accent their gardens, separate plants from the rest of the landscape and help maintain weeds in hard-to-mow areas. Flagstone, railroad timbers and garden tiles can be beautiful and expensive. Emphasize and maintain your landscape with inexpensive garden-edging materials.
Willow
Willow edging is a rustic-looking edging option that can be found in 10-foot edging sets. Garden suppliers offer these edging sets in easy-to-establish bundles staked into the ground and used to highlight flowerbeds, special landscaping sites and trees or shrubs. The sets resemble wicker and are treated for outdoor use. Willow-edging sets are best used in places where weeds are not a major concern. They work to create a barrier between the garden and the rest of your landscape.
Bamboo
Bamboo offers an all-natural landscaping medium that is versatile and much less expensive than flagstone and masonry materials. Bamboo is a type of wheat that has a hard woody shaft and a hollow center. Because it is hallow, bamboo is lightweight and cuts easily to size. As a landscape edging material, bamboo can be purchased cut and combined into a variety of designs to accent flowerbeds, driveways and special-interest landscape areas. These borders generally come in bundles ranging in length from 3 to 12 feet to accommodate different gardening needs.
Metal or Plastic
Two common and inexpensive edging materials are plastic and metal prefabricated strips. According to "The Garden Primer," by Barbara Damrosch, these edging materials can be used to prevent weeds from growing into a garden site as well as separate the garden from the rest of the landscape. Both metal and plastic edging strips are placed into a narrow trench.The top of the edging is flush with the top soil.
Mulch Trench
Similar to a metal or plastic gardening edge, landscapers often dig narrow trenches between a landscaping area, sidewalk or decorative area and fill with mulch. The mulch prevents weeds while maintaining a natural-looking area. In addition, the trench holds in the mulch so that wind and wildlife do not scatter the materials into the garden or throughout the yard.
Rock
Rocks are some of the most economically accommodating landscaping border materials. Collect rocks from the landscaping site; in addition to being inexpensive, rocks from the landscaping area often blend well with the natural environment. Seek rocks of various shapes to stack up around the edging. A number of gardeners enjoy using river rocks because they're smooth and visually appealing.