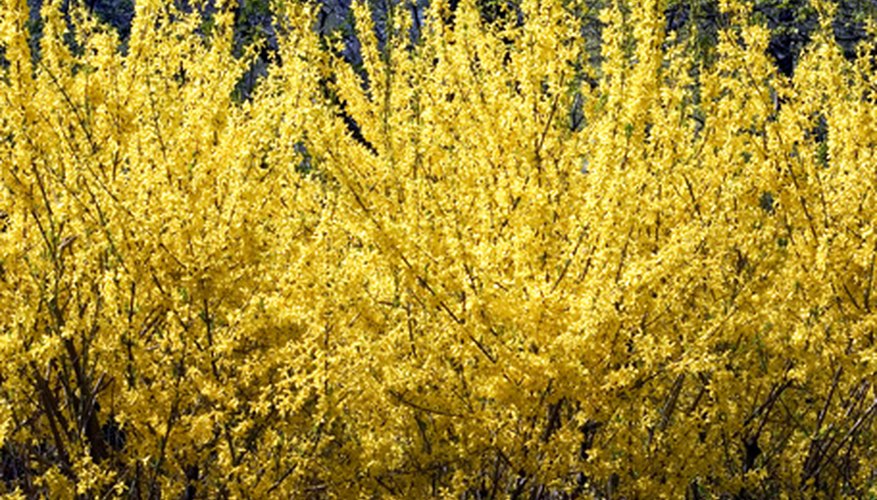 For a flowering landscape in your front yard during spring, plant a variety of plants, such as spring-flowering bulbs, ornamental flowering trees and spring-flowering shrubs. These types of plants will bloom every spring without much assistance, except for a little pruning here and there and supplemental water during dry periods. These bulbs, trees and shrubs will live in your landscape for many years.
Spring-Flowering Bulbs
For a riot of spring color over several weeks, plant spring flowering bulbs in a sunny area of your front yard. Choose crocus (Crocus flavus), hyacinth (Hyacinthus spp.), daffodils (Narcissus spp.) and tulips (Tulipa spp.), which all bloom at different times, thus extending the blooming season. If you plant several different varieties of each type of spring-blooming bulb, you can extend the blooming season even longer. Spring-blooming bulbs must be planted in fall for flowers the following spring. Because they bloom early, they can be planted in areas that will be shaded by deciduous trees after they leaf out.
Ornamental Flowering Trees
As a specimen planted in the lawn area, ornamental flowering trees are an excellent choice for springtime flowers. Ornamental flowering trees, such as crab apples, (Malus spp.) flowering almond (Prunus glandulosa), ornamental cherry (Prunus spp.) and flowering quince (Chaenomeles spp.), grow less than 30 feet high, with some varieties growing less than 20 feet high. This makes them ideal specimens for small urban front yards. Their blossoms are highly fragrant and with very few exceptions, produce white, blush, pink or peach-colored flowers in early spring. Some varieties bloom before leafing out, creating a spectacular flower-covered canopy.
Flowering Shrubs
Aside from the usual spring-flowering rhododendron or azalea, try planting forsythia, bridal bush or winter currant in your front yard for springtime blossoms. Forsythia (Forsythia spp.) comes in many varieties with bright yellow blossoms that bloom before the leaves open up and cover the bush with their flowers. Bridal bush (Spiraea prunifolia) is a vigorously growing shrub that grows well even in partial shade, withstands neglect well and produces masses of tiny, whorled flowers that cover the bush in late spring. Winter currant (Ribes sanguineum) is an upright, woody deciduous shrub that produces clusters of delicate, star-shaped pink flowers that cover the branches in early spring before the leaves come out.