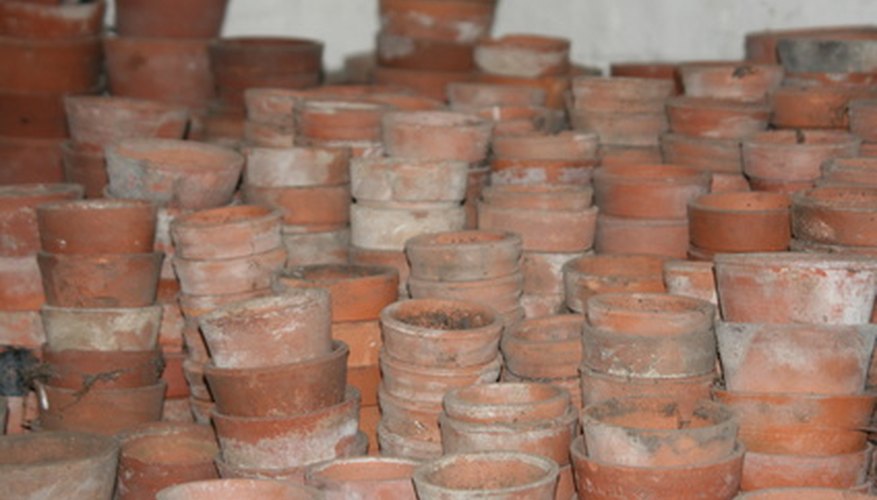 Terracotta plant pots are wonderful for growing plants because they are made from low-fired clay that is porous and will absorb water. This characteristic also causes your terracotta pots to be damaged or disintegrate if they are not properly taken care of, particularly over the winter in colder climates.
Winterizing Clay Pots
Remove all dirt and plants from your terracotta pots. Rinse any excess soil off and use a stiff scrub brush. If fertilizer or water salts have left buildup or white stains on your terracotta pots, mix a thick paste of baking soda and water. Apply this paste on the stain and buildup and let it set for at least a half-hour. Then, use your scrub brush to remove the stains and buildup.
Wash each terracotta pot thoroughly with a solution of warm soapy water with 10 percent bleach added. This will remove and kill any bacteria or fungus that may have attached to your pot. For a more thorough sterilization, soak the pot in the bleach solution for a half-hour to kill any fungus or bacteria.
Allow your terracotta pots to completely dry. Even though the surface of your pots may feel dry, because terracotta absorbs moisture, the inside may still retain water. If that water remains in your pots, when a good freeze arrives, your terracotta pots may crack or break as that water freezes and expands. Set them in a dry, warm spot for several days to completely dry.
Store your clean, dry terracotta pots in a dry place, like sheds or your garage, over the winter. Do not stack your pots because you may have difficulty separating them later or if the one inside the other expands for some reason, it will crack the outside pot.
Things You Will Need
Warm, soapy water

Bleach

Baking soda

Scrub brush

Large tub