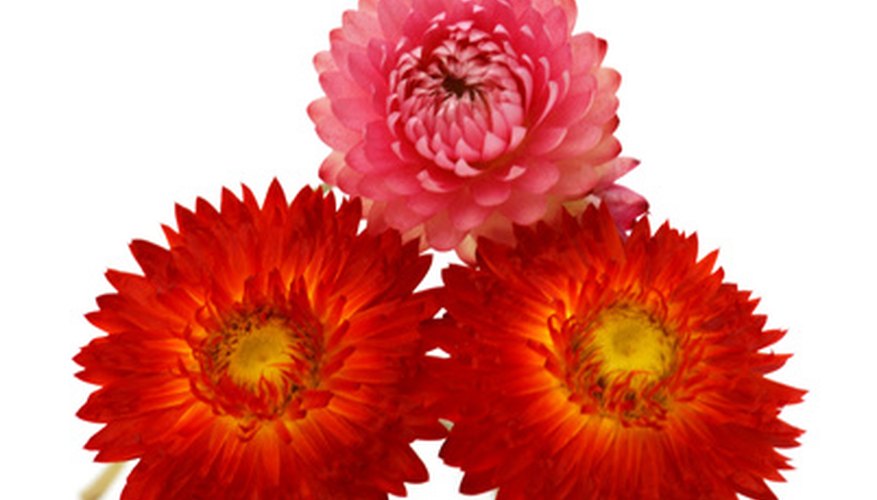 Before silk flowers were widely available, gardeners dried their own flowers for use in winter arrangements. Many types of flowers are suitable for drying and the majority of them require no special treatment. Cut flowers that you want to dry when the blossoms are not quite open—they will continue to open up after picking. Remove the leaves, and secure a small bunch—about a half dozen—together with a rubber band. Hang the bunch upside down in a dark, airy place. The drying time will vary with the type of flower, but most varieties will be completely dry in two to three weeks. Be sure the flowers are completely dry and crisp before storing or they may be attacked by mold.
Statice
Perhaps the most obvious choice for drying, statice (Limonium sinuatum) has the appearance of a dried flower, even when fresh. Their tiny, papery blossoms retain their color quite well when dried, and they come in a variety of colors, from bright to pastel, depending on the variety. The flowers of statice dry quickly, but their thick stems take a little longer to completely dry out. Ensure that the stems are completely dry before storing.
Strawflowers
Another annual flower with papery-like flower petals, strawflowers (Helichrysum bracteatum) are similar in appearance to daisies in that they have small ray-like petals surrounding a contrasting center. Unlike daisies, the petals are shorter and the center of the flower is more prominent. Pick strawflowers for drying when the petals are just beginning to open. If you wait until the petals are already open, the center of the flower will elongate and the petals will shrivel up. Strawflowers are available in earthy shades of red, maroon, pink, purple, orange, yellow, tan and cream. They are one of the easiest flowers to dry.
Globe Amaranth
A member of the much-varied Amaranthaceae family, globe amaranth (Gomphrena globosa) grows small, slightly elongated globe-like flowers at the end of short stems. The most popular and widely available color is a purple-fuchsia, although a red variety (Gomphrena haageana 'Strawberry Fields') is also available. Globe amaranth grows only a foot high and its tiny globe-shaped flowers are less than an inch in diameter. The paper-like petals, which are actually bracts, radiate from a central point and they dry quite easily. Globe amaranth flowers can be picked for drying when they are past the stage at which most other varieties of flowers should be picked for drying, although blossoms that have begun to fade will be of lower quality when dried and should be avoided.