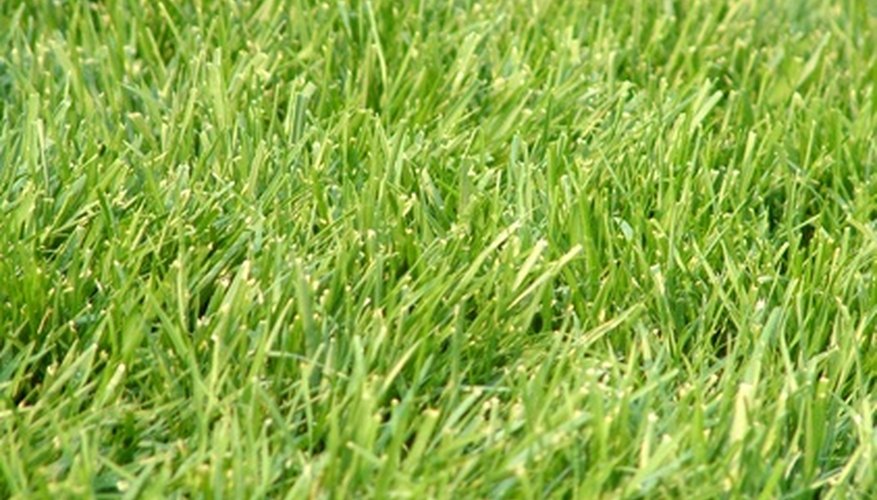 In the warmer areas of Arizona, the lower desert elevations, many homeowners have Bermuda grass lawns. The hardy Bermuda grass can survive the intense heat of the summer, when daytime temperatures can reach 105 degrees or more. In the winter, the Bermuda goes dormant and becomes a less than attractive brown color. The solution is to overseed Bermuda lawns with rye grass, which thrives in cooler weather.
Watch the weather forecast for optimal conditions. The challenge in overseeding is planting the seed when the days are still warm, highs in the lower 90s, but the nights are getting cool, around 60 to 65 degrees Fahrenheit. Hotter temperatures can burn or dry out the new grass before it has a chance to take root.
Scalp the summer lawn. Also called dethatching, this means mowing the lawn down to as low a height as you can, almost to a nub. Removing the older grass will allow water to reach the rye grass seeds.
Prepare the surface. Fertilize the lawn and check for diseased spots in the grass and treat those with the fungicide or insecticide your local nursery recommends. You can then leave the lawn alone for up to two weeks, without watering.
Spread the rye grass seed. Use a push spreader or other mechanical device. Sowing the seeds by hand does not allow you to spread the seeds as uniformly as you should. Spread in a north-south direction, then east-west. You may even spread diagonally for maximum coverage.
Cover the seeds. Most homeowners spread a thin layer of compost or very fine mulch over the seeds as a top dressing. Take care to spread this as evenly as possible. Don't use wood chips or other thick material that will make it harder for the grass blades to emerge.
Maintain a proper watering schedule. The amount and timing of watering is crucial to getting the rye grass seeds to germinate. Water for short 10-minute periods three or four times a day. Don't water at night. Your goal is to provide the new lawn sufficient moisture during the heat of the day.
Stay off the sprouting seeds. The rye grass will be fragile when it first comes up. Keep people and dogs off of it until it reaches 2 inches in height. You may need to install temporary garden fencing to remind everyone to stay off of your new lawn.
Mow the new grass. Don't wait until the new grass is 3 to 4 inches high to mow it because it will be so thick it can clog your mower or make it difficult to mow evenly. Mow one-half inch from it when the grass reaches about 2 inches in height.