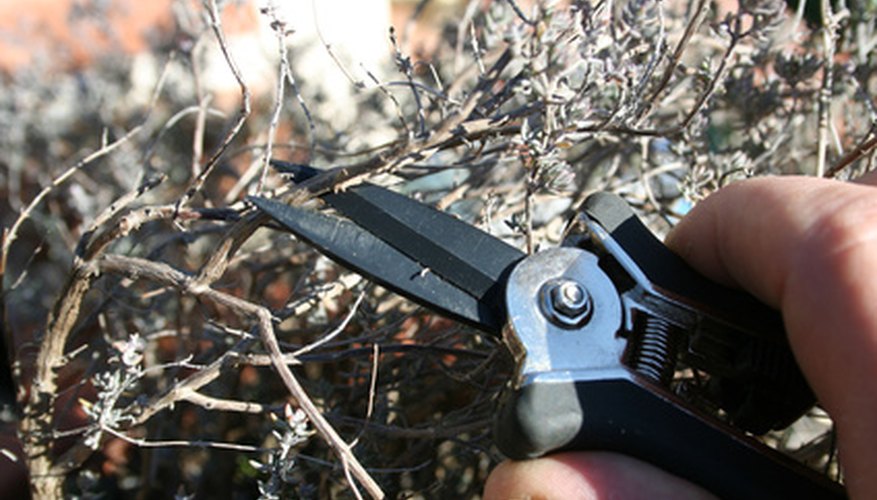 Topiary represents one of the most expressive forms of landscaping. Topiary involves the cutting of shrubs such as boxwood or yew to form interesting shapes as a decorative accent to the landscape. Topiary requires patience, perseverance and excellent pruning tools to achieve the proper plant shape. Topiary trimming tools include hand-held clippers as well as tools to remove larger areas of the plant during shaping.
Anvil Pruning Shears
This type of pruning shear fits comfortably in the hand of the topiary artist. Anvil shears feature a thick, curved blade surface that meets a second flat blade during the cutting motion. Anvil pruning shears work best on slightly larger branches and shouldn't be used for trimming during the final stages of topiary design. Anvil shears deliver a slightly blunter cut than scissoring shears.
Scissor Shears
These sharp pruning shears make the fine cuts necessary for intricately designed topiary. Scissor-type shears feature smaller blades than anvil pruners. A top thin blade works against a slightly thicker bottom blade to make precise cuts. Steel blades have a long triangular shape with a simple straight handle. The handle of scissor action shears doesn't feature the typical hinge mechanism seen with regular pruning shears. Scissoring shears feature a soft grip squeeze handle designed to make cutting fast and easy.
Pruning Loppers
Sometimes larger branches require cutting when designing a living work of art. Lopping shears cut branches larger than 3/4 inch with ease. This type of trimming tool features long 18 to 24 inch handles connected by a hinge below the cutting blades. Curved steel cutting blades meet to provide sharp cuts using the leverage provided by the long handles.
Hedge Clippers
This type of clipper features a long, flat blade ranging in length from 6 to 18 inches. Handles can be up to 10 inches long to provide leverage for making flat cuts on hedges or topiary. Hedge clippers aren't designed to chop through branches larger than 1/2 inch in diameter. Hedge sheers work best to straighten the overall form of a topiary and to smooth surfaces of the plant to neaten appearance.
Pruning Saw
Gardeners rarely use pruning saws on fully-formed topiary, but this tool sometimes comes in handy when training a young plant. Pruning saws have wide tooth blades that cut sharply on the pull of the saw. Blades also have a slight downward curve to improve cutting ability. These saws feature a wide, oval handle to establish a firm grip. Folding models provide the same cutting surface and protect the blade during storage.