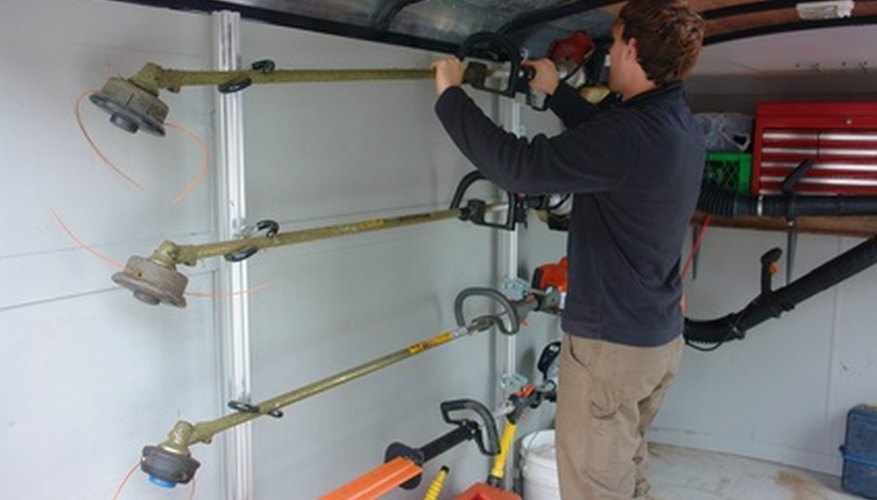 When your weed eater begins to run sluggish, it may be time to change the fuel filter. The fuel filter sits on the end of the fuel line in the gas tank. Replacing the fuel filter is not difficult and does not take much time. You can purchase replacement fuel filters at home improvement centers. Most fuel filters will have a small tube that fits inside the fuel line while others will fit directly over the fuel line. If you are unsure of the filter your weed eater uses, remove the old filter first and take it to the store when purchasing the replacement.
Unplug the spark plug wire from the spark plug on your weed eater. Empty the fuel out of your fuel tank into a container or gas can.
Cut 6 inches off the straight portion of a metal clothes hanger with a pair of wire cutters. Bend one end of the straight piece into a small hook with a pair of needle nose pliers.
Insert the hook end of the metal piece into the fuel tank and pull the fuel line and filter out of the tank. The filter is on the end of the fuel line.
Grab the fuel line with one hand near the bottom of the fuel filter. Pull the filter off the fuel line with your free hand.
Insert a new fuel filter on the end of the fuel until the filter locks into position. Bend the fuel line so that you insert the filter into the fuel tank first. Insert the fuel filter into the tank and push the fuel line into the tank. Ensure that there are no kinks in the fuel line when it is in the tank.
Fill the fuel tank with gasoline and twist the fuel cap back onto the fuel tank. Push the spark plug wire back over the spark plug.
Things You Will Need
Clothes hanger

Wire cutters

Needle nose pliers

Replacement fuel filter
Warning
Always disconnect the spark plug wire before attempting repairs to your weed eater.
References