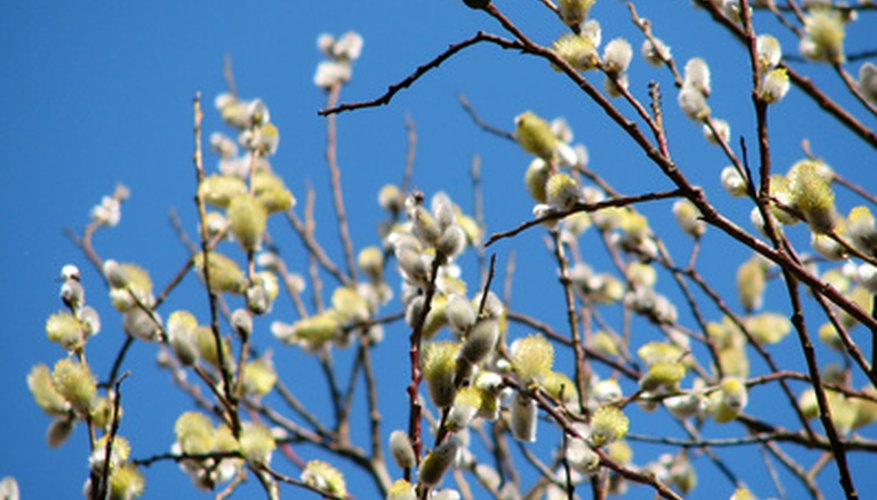 Minnesota encompasses the three coldest USDA plant hardiness zones in the United States. Most of the state is in zones 3 and 4 with two small sections--one in the north central and one in the northeastern sections--being in the coldest zone, Zone 2. Winter temperatures get as low as minus 45 degrees Fahrenheit and that does limit the choice of flowering trees, but there are trees that can grow even there.
Juneberry
Juneberry (Amelanchier canadensis) is also known as serviceberry, shadblow, shadbush and shadbloom. The plant grows as tall as 20 feet with a crown that has a spread of up to 10 feet. It produces leaves that grow to 2 inches long and are white with a fuzzy texture in the spring, changes to shiny green and then to yellow, red or orange in the fall. The white flowers appear in the early spring and grow in 2-inch-long clusters. The fruit is a half-inch in diameter and looks like a large version of a blueberry. Plant Juneberry in partial shade and in wet soil. The tree can take a soil that goes dry after it becomes established. The tree does well in the shade of larger trees and is a favorite of wild birds, squirrels, raccoons and bears. Juneberry can be planted in all of Minnesota with the exception of the two small areas in the north that are in Zone 2.
Witch Hazel
Witch hazel (Hamamelis virginiana) grows from 20 to 30 feet tall with a trunk that measures up to 10 inches in diameter and a crown with a spread of 20 to 25 feet. The tree produces green leaves that change to yellow in the fall and are almost a perfect circle, growing from 2 to 6 inches long and about the same in width. The long, thin, fragrant yellow or creamy white flowers appear in late autumn and winter, after the leaves are gone and are followed by small brown fruit that remain on the tree until the following summer. Plant witch hazel in full sun and in soil that is moist. Witch hazel can be grown in all but the two coldest areas in Minnesota.
Nannyberry
Nannyberry (Viburnum lentago) grows up to 15 feet tall or larger. The tree produces light-green leaves that grow from 2 to 5 inches long, change to a dark green as they mature and finally to purple-red in the fall. The flowers appear in May, are small and white and grow in flat-topped clusters. The fruit replaces the flowers in the clusters, starting out green and changing to yellow, pink, rose and blue-black at maturity. Plant nannyberry in full sun or shade and in soil that is dry to moist, but not wet. The tree can be planted in all areas of Minnesota.