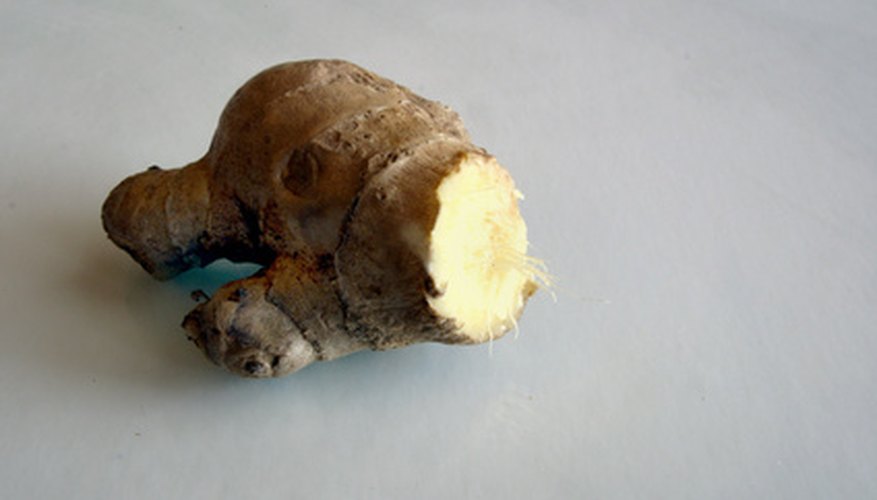 Ginger is an herb used as a culinary spice in Asian dishes and also has medicinal uses, such as soothing nausea and stomach upset and reducing inflammation most commonly associated with arthritis. This knobby root, or rhizome, as it is more correctly known, is easily grown at home in the ground or containers, depending on the growing zone. For zones 6 and lower, it is best to grow in containers that can be brought indoors during the winter. Growing organic ginger root at home is relatively easy to do and will allow you to reap the nutritional and health benefits of this amazing plant.
Pick a piece of organic ginger root at your local grocery store that has two to three separated pieces, or fingers, and is about 4 to 5 inches long. Using organic ginger root is ideal, since it will not have been treated with chemicals. Break off the fingers and set in a warm, dry place for two days to dry out.
Prepare your planting site in early spring and choose a location that does not receive full sun during the day and has some wind protection-- next to a north-facing wall or fence is ideal. Add organic compost to the garden soil and till in well until the soil is loose.
Dig a hole no deeper than 1 inch, and plant each piece of ginger root 1 foot apart. Ginger root plants can get as tall as 4 feet, so they need room to grow.
Lay a piece of ginger root into the shallow hole and cover with soil. Tamp the soil down gently around the root.
Water the newly planted ginger root well to dampen the soil, but do not let puddles form. Keep the soil moist while the ginger is becoming established, and don't let it dry out in between watering. Once the green stem and leaves emerge, about one to two weeks after planting, decrease the watering to once a week. Water deeply using a garden hose with the water trickling slowly for about half an hour.
Apply a slow-release organic fertilizer when planting. After that, use an organic liquid fish emulsion every couple of weeks to supply the needed nitrogen for a healthy plant and to replace any nutrients lost due to watering.
Add a layer of organic mulch over the ginger root after planting to help retain moisture and keep the soil an even temperature. Use shredded leaves, pine needles or straw.