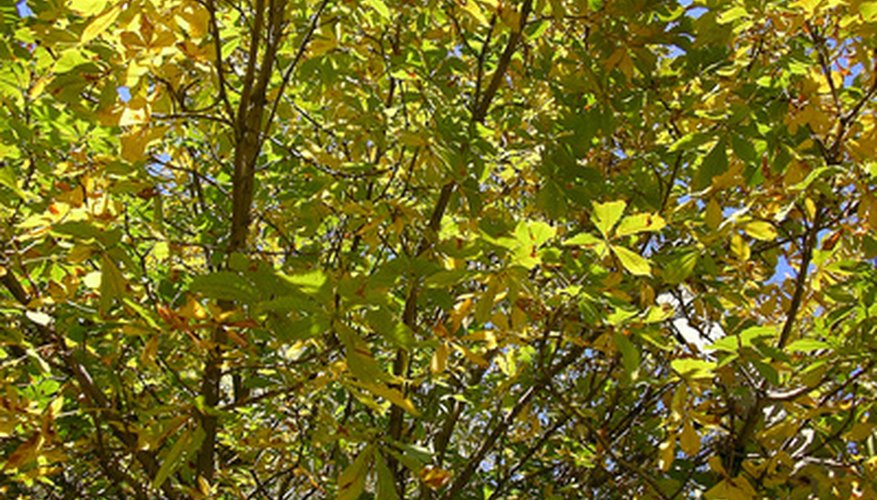 There was a time in history when the American chestnut tree made up 25 percent of the forests in eastern North America. This stately tree grew to a height of 120 feet, and had a life span of 600 years. Gary Obermiller, a regional manager for the Division of Natural Areas and Preserves, told the Columbus Dispatch, "They are often referred to as the redwood of the east because of their tremendous size."
Ravaged by a Fungus
The American chestnut was all but obliterated by a fungus. This destruction began in 1904 beginning in New York City, and by 1950 the loss of the American chestnut tree was up to 3.5 billion trees or approximately 90 percent of the American chestnut trees. The 10 percent that remained was only due to their isolation from the infected trees. The fungus (chestnut blight) that destroyed them remains in the soil, making it impossible for the American chestnut to once again dominate the forests of North America.
Fungus Survivor in Ohio
Before the deadly fungus attacked the American chestnut, the tree could be found growing in the eastern half of Ohio. One known tree to survive the chestnut blight is located in Ohio–but the location is being kept secret to protect the tree. The tree has grown to a height of 89 feet and is 5 feet in circumference. Officials feel that the tree may be blight-resistant, and would like to have it tested by the American Chestnut Foundation.
Restoration of the American Chestnut Tree in Ohio
The American Chestnut Foundation is working feverishly to bring the American chestnut tree back to Ohio. This foundation was formed in 1983 and is intent on creating a cultivar/hybrid that is resistant to the blight that wiped out the American chestnut tree. It is working hard through a breeding program that will produce a tree that is fifteen-sixteenths American chestnut; this new cultivar will be disease-resistant. Eventually this tree will once again grace the forests of eastern Ohio.
ARR Initiative
The American chestnut tree was an extremely important part of the forest's ecosystem. It provided food for animals, and a natural habitat for squirrels, deer and turkeys. The ARR or Appalachian Regional Reforestation Initiative has begun planting the American chestnut tree on former coal-mining sites (1.2 million acres that was damaged by coal mining). The chestnut tree is fast growing and is perfect for this reforestation project.
Chestnuts
Before the chestnut blight, the American chestnut tree produced abundant crops of chestnuts. Today chestnut crops in the United States are produced by non-native chestnut trees. Chestnuts are also imported from Europe or Asia.