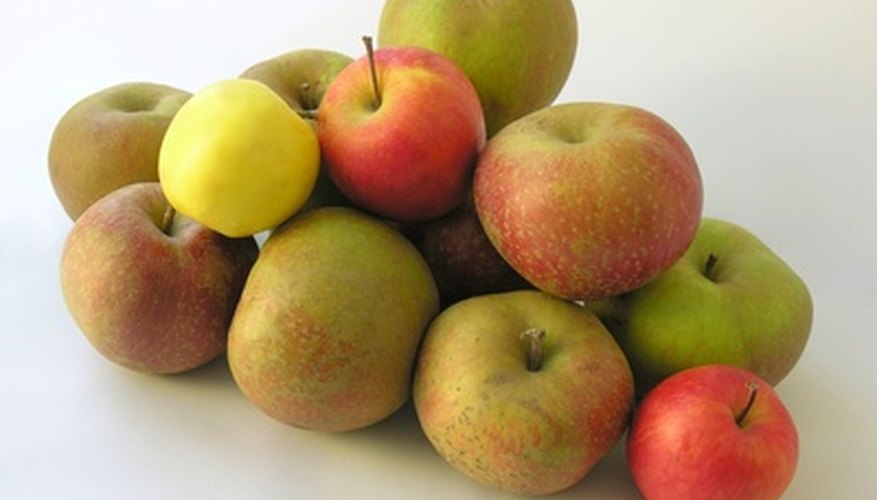 Many apple orchards have discovered that it is more profitable to allow you to pick your own apples and sell them at a discount than to harvest the apples and sell them through traditional wholesalers. You-pick apples can allow you to get very fresh, sometimes organic, apples in large quantities for canning and cooking. You-pick apples are also generally good eating apples.
Locations
You-pick apple farms in Colorado are located on both sides of the Rocky Mountains. Apple orchards are found in the plains and foot hills both on the Eastern and Western Slopes. You can find orchards in the following counties: Fremont, Boulder, Larimer, Adams, Pueblo, Broomfield, Delta, Mesa, Montrose, and La Plata. Different orchards will have locally suitable varieties, including, among others, Jonathon, Winesap, Golden Delicious, Red Delicious, Rome Beauty, Fortune, Granny Smith, Molello Gold, Gala, Braeburn, Fuji and Cortland. If you are looking for a particular variety, call the orchard to see if they have that variety.
Season
Apple picking season generally starts in early September and goes through the end of October. Different varieties of apples ripen at different times, so calling the orchard before driving out is a good idea. If you plan to do a lot of canning and cooking, make two trips to the orchard to pick an early season variety and then return for apples that ripen later to make sure you get the freshest fruit for your projects. Most apple orchards in Colorado are in USDA climate hardiness zone 5 areas and have similar picking seasons to other zone 5 areas. Check the map in Resources for growing areas.
Services
Some apple orchards will pick the apples for you for a fee. If climbing ladders and carrying bushel baskets doesn't appeal to you, call ahead and have the orchard owner pick your apples in advance. This way, you will get fresh apples off the tree at a small premium over you-pick prices.
A few apple orchards offer cider presses to make natural apple cider. Some offer the use of the press as part of the price of the apples, but others may charge a small fee for the press. Not all Colorado orchards have a press, so call ahead to establish the procedure at the orchard you plan to visit.
Other Products
Some apple orchards offer other you-pick fruits and vegetables. Apricots, broccoli, cantaloupe, chilies, and cherries are among the other crops often grown by the owners of apple orchards. Although crops like apricots are not common, some orchards in Larimer County grow them. Some orchards will make preserves and pies. In some cases, orchard owners may keep bees and offer fresh honey for sale during apple season.
Cautions
Picking apples can sometimes require a ladder. If you aren't comfortable on a ladder 4 to 6 feet above the ground, apple picking may not be for you. Ask if they apples have been sprayed before eating them in the orchard. Most orchards don't spray, and most orchard owners expect a few to leave the orchard unpaid and in your stomach. Because Colorado has high sun indexes, wear adequate sunscreen when picking apples to avoid sunburn.