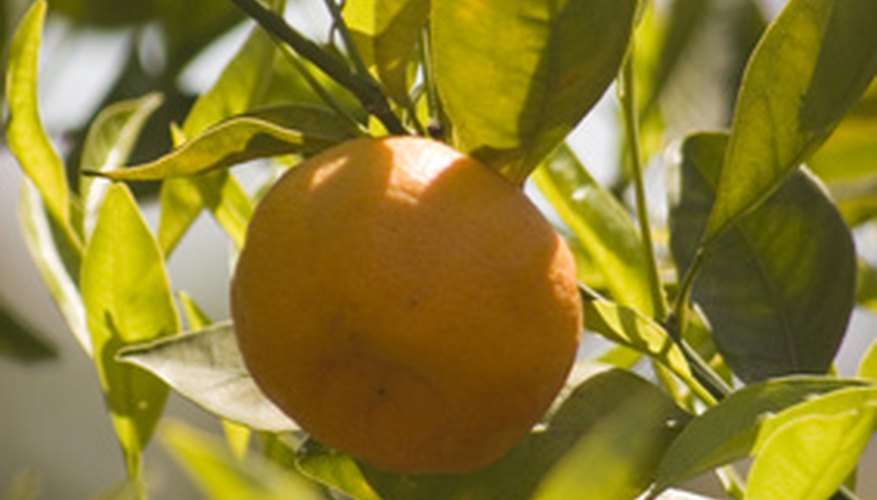 There are four growing zones in Florida: north, south, central and tropical. Each region has its own weather and type of soil. Your county cooperative extension agent (see Resources) is a reliable source of information on growing conditions in your particular area. That said, just about anything will grow in the Florida sunshine. Growing an orange tree there is a bit like taking a sandwich to a banquet.
Provide full sun for your orange tree. Although oranges can be grown in partial shade, the tree will not produce as well as when it is provided full sun.
Grow your orange tree in Lakeland fine sand, according to agriculturists at Purdue University. It drains well and fast, which is required of the orange tree. They also suggest selecting a rootstock that is appropriate for your particular soil conditions. Consult with your county cooperative extension service for advice on which type of orange to grow in your area.
Keep the planting area free of weeds.
Fertilize the orange tree soon after harvest. Check with your county cooperative extension agent to find out which fertilizer is best for your area of Florida.
Water the orange tree slowly and deeply. The general rule is to give it 2 inches of water every two weeks, more frequently if it is particularly dry. A hose turned to a trickle will work well.
In zone 9A (including St. Johns County, Flagler County, Polk County) orange trees will need protection if temperatures go below 25 degrees F. Depending upon the size of the tree, a blanket or tarp can be used to cover it during these cold periods.