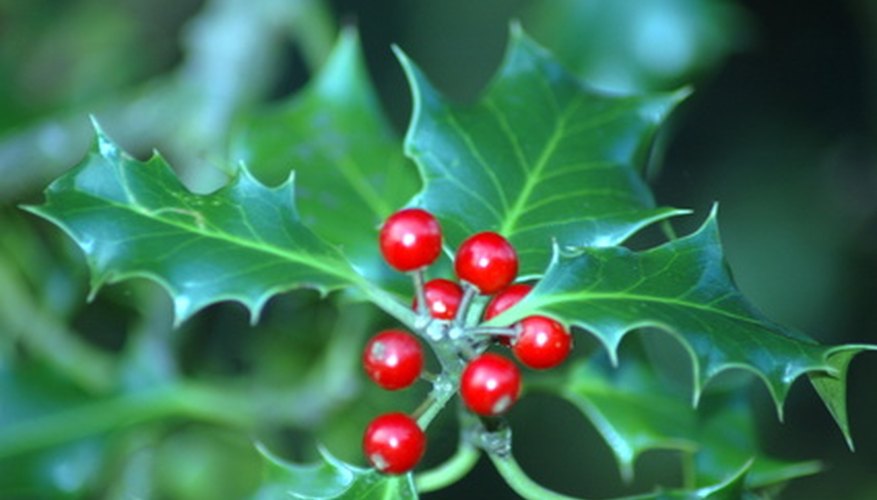 Holly (Ilex) is a well-known garden shrub or tree, typically thought of with distinctive green foliage and brilliant red berries. In addition to providing branches for winter holiday decorations, it can serve a variety of uses in your landscape, depending on which species you choose and how you shape it. Prune an individual shrub into a tree shape or plant several hollies of the same species in a row and clip them as a dense hedge. The holly family is diverse, with dwarf and large-growing species. Choose a holly species whose natural habit conforms most easily to your landscape plan.
Season & Frequency
Cut off broken, dead or diseased holly branches as soon as you notice that there is damage to the plant.
Minor removal of holly branches for seasonal decorations is acceptable for all species.
Make most of your holly pruning cuts in the end of winter or early in the spring.
Prune "espaliered" (trained in an open tree shape along a wall) hollies only when they are in bloom. Do not remove the flowers that will become berries.
Begin an annual pruning program when the holly is small. Shape the holly each year to maintain the desired form.
Pruning Tools & Cuts
Wear thorn-proof gloves at all times when working with holly. Dispose of cut holly in a yard waste container immediately after pruning to prevent scratches from the leaves. Cut with pruners if the holly branch is under 1/2 inch in diameter. Use long-handled loppers for branches that are as large as 1 1/2 inches wide. For larger branches use a pruning saw.
Achieve a tree shape by removing the lower branches of a holly shrub. Make these cuts in either a young or a mature holly.
Maintain a natural plant shape by thinning out (cutting back to the trunk) branches that are too long and disrupt the plant's silhouette. Remove one branch at a time, checking after each removal to see how the appearance of the plant has changed.
Adjust the natural shape, if desired, by heading back (cutting off along the branch) to make the holly denser.
Transform a row of hollies into a hedge by shearing them with hedge clippers to make a compact and dense planting.