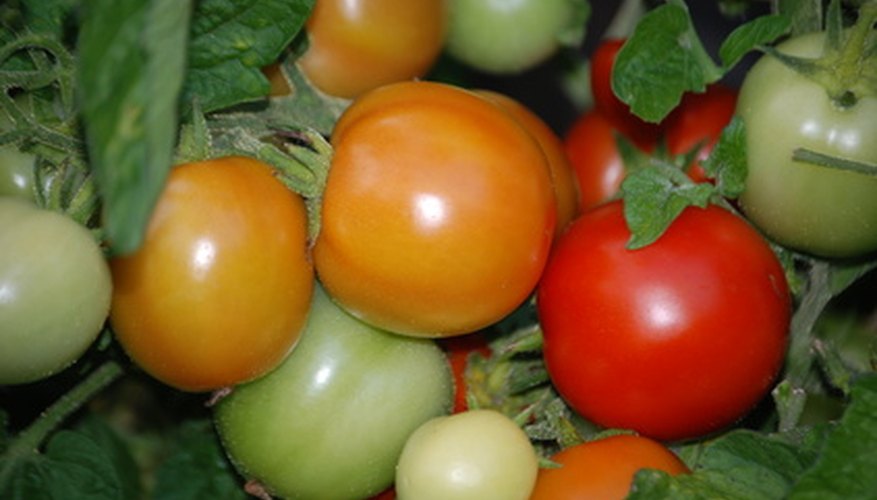 There are over 5,000 varieties of tomatoes (Solanum lycopersicum) listed with the United States Department of Agriculture, and most of those are harvested for commercial purposes, according to Arthur Allen of Smithsonian Magazine. Of those 5,000 varieties, hundreds are good for growing by home gardeners. Most horticulturists sort those hundreds of varieties into categories defined by when the tomatoes are harvested, what size they are at harvest or how the tomatoes are used.
First Early Red
These tomato plants are most often grown in cooler climates, where they can be harvested before the hot sun scorches the leaves of the plant. They provide ripe tomatoes in as little as 45 days and produce small or medium-sized tomatoes.
Early Cascade is a variety that produces fruit in 55 days and is resistant to verticillium wilt, a fungal disease that can destroy an entire crop of tomato plants. The fruit of this variety is borne in large clusters and each tomato usually weighs around 4 oz. Early Cascade is a trailing tomato variety.
Sub Arctic Plenty is a fast-growing, determinate plant, which means it stops growing when flowers develop. The tomatoes, which are 3 or 4 oz., are harvested at 45 days, making it one of the fastest-producing varieties. On the down side, this variety is not resistant to any of the common diseases of tomatoes.
Medium Early Red
Medium-early red varieties of tomato take a little longer to produce ripe fruit, but the tomatoes are larger and tastier. Champion is a popular variety that ripens in 65 days and produces large, smooth tomatoes that weigh in at 10 oz. In addition, this variety is resistant to all of the major tomato diseases, including verticillium and fusarium wilt. Mountain Spring is another variety similar to Champion. It is also resistant to the wilting diseases and produces slightly smaller but rounder tomatoes.
Main Crop Red
Main crop red tomatoes are just that–the main crop that most home gardeners choose to grow. These varieties are usually supported with stakes or trellises and can grow in mulch. Main crop tomatoes produce a large amount of high-quality fruit, are hardy in a home garden and are disease- and crack-resistant.
Floramerica produces large, 12 oz. tomatoes in 75 days. The tomatoes are very sweet and bright red in color. This variety is an "All American Selection" winner. Celebrity is a prolific fruiting variety with 10 oz. tomatoes and is known for being extremely hardy. This variety harvests in 70 days. Burpee's Big Girl takes 78 days to ripen but produces large, tough 16 oz. tomatoes.
Extra Large Red
Extra-large red tomato varieties take a long time to ripen. These huge tomatoes are often called "beefsteak" tomatoes, and just one slice can cover a sandwich or hamburger. They are not as hardy as main crop tomatoes, but they are novel and showy plants.
Delicious takes 77 days to ripen and produces tomatoes that are over 1 lb. in weight. This variety produced the world-record holder at 7 lbs., 12 oz.
Supersteak produces meaty, 1 to 2 lb. tomatoes in about 80 days that are resistant to disease, as does the Beefmaster variety.
Small Fruited or Cherry
Cherry tomato varieties are highly productive plants. These small, sweet, cherry-sized tomatoes are often eaten right off the vine or sprinkled onto salads.
Super Sweet 100 ripens in about 70 days and produces clusters of small tomatoes that are around 1 inch in diameter. This variety is resistant to verticillium and fusarium wilt. Sweet Million also produces large clusters of 1-inch tomatoes in about 65 days.
Paste Tomatoes
There are several varieties of tomatoes that are especially good for use in recipes and sauces. These tomatoes have solid flesh and are stronger than many other varieties.
Roma is harvested in 75 days and produces fruit that averages around 2 oz. Sam Marzano ripens in 80 days, is a dark red color and is crack-resistant. Viva Italia is a sweet variety that produces 3 oz. fruit in about 80 days and is resistant to diseases.