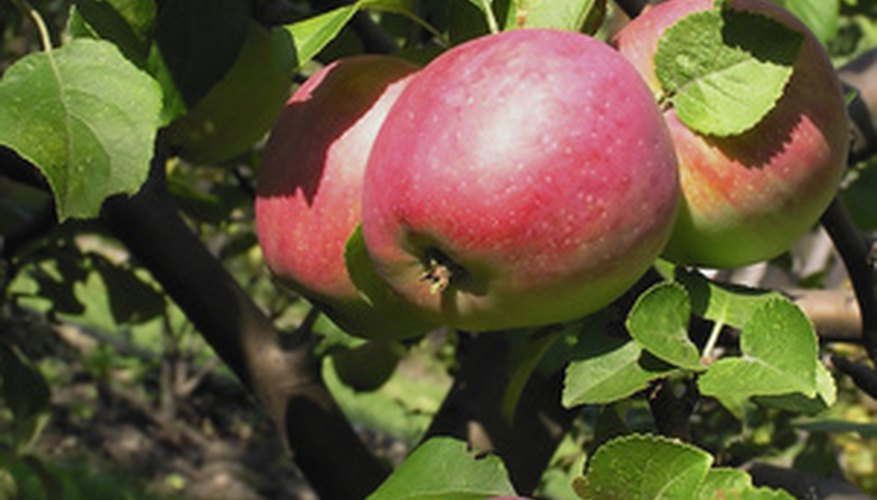 Perhaps the most widely grown fruiting tree in home gardens, apples (Malus spp.) have been selected and hybridized into hundreds of varieties. However, all apples are self-infertile. This means that two different varieties of apples must be planted in close proximity in order for them to produce fruit. Bees pollinate the blossoms.
Grow apples in full sun and fertile, well-drained soil that is rich in organic matter; prune and train them consistently in their first three years of life.
Empire
An early season dark red apple, Empire is juicy, crunchy and of average size. It is a good apple for fresh eating and for cooking. Developed and introduced by Cornell University, Empire is named for the nickname of New York State. It is now one of the most widely grown apples in commercial production world wide. Empire can be pollinated by planting a Golden Delicious apple tree nearby.
Golden Delicious
Golden Delicious apples pollinate Empire apples and Empire apples effectively pollinate Golden Delicious apples. This golden, yellowish-green or light yellow variety of apple ripens in mid to late season, producing large, sweet and juicy fruits with a unique apple aroma. It is excellent for fresh eating. As a cooking apple, it is so sweet that it is possible to use less sugar in recipes using Golden Delicious versus other apple varieties.
Braeburn
Perhaps the most widely grown warm-season apple in the world, the Braeburn is ideal for growing in North Carolina's climate. It ripens in midseason and is at its best for eating fresh. Braeburn is the first multi-colored apple that was commercially successful, having coloration that is green with light red blush. Braeburn stores well and retains its characteristic crispness for a long time in storage. Pollinate Braeburn apples with the apple variety Rome Beauty.
Rome Beauty
An excellent apple variety that is best for cooking, Rome Beauty keeps its shape well when cooked and it is excellent for pies. A late season apple, it has bright red striped or blush skin. Rome Beauty is crisp and keeps its color well when cut. Pollinate Rome Beauty with the variety Braeburn.