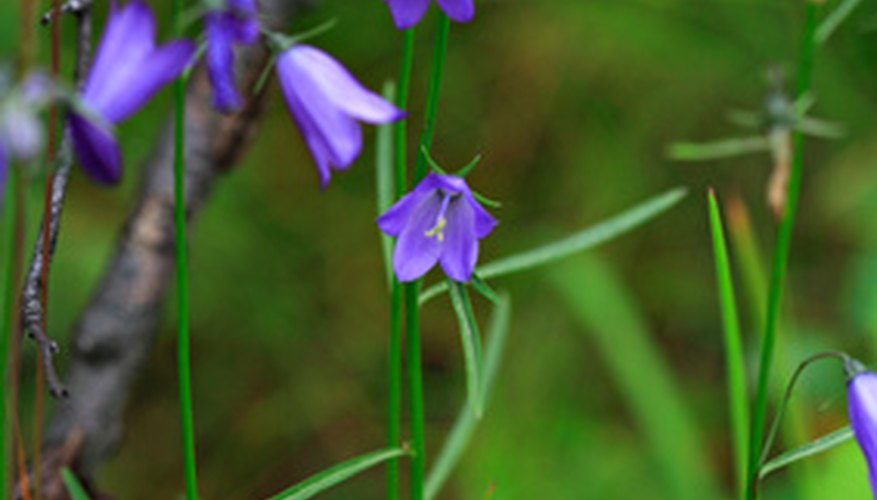 The hillsides and prairies of Iowa support a variety of perennial flowers, many that will grow well in the home garden. Growing these native perennials reduces the threat of invasion by aggressive, non-native species. Native plants also require less maintenance than more exotic flowers and often encourage birds, bees and butterflies to visit the garden.
Harebell
The thin, delicate stems of Campanula rotundifolia, commonly known as harebell, reach up to 15 inches tall. The tips of the stems bloom with drooping, bell-shaped, blue flowers throughout the summer months. Harebell grows wild in open woodlands and prairies and prefers sandy, well-drained soil. It tolerates sun or shade and makes a suitable addition to a rock garden.
Butterfly Weed
The bushy perennial known as butterfly weed, or Asclepias tuberosa, grows up to 2 feet tall and features long, pointed, dark green leaves. Clusters of yellowish orange flowers bloom atop the stems in spring and summer and attract butterflies and hummingbirds. This perennial often grows wild in prairies and along hillsides. Plant butterfly weed in full sun and well-drained soil. It tolerates drought and rarely requires watering.
Turtlehead
Turtlehead, or Chelone glabra, features erect stems that reach up to 4 feet tall. Spikes of tubular white flowers appear among the long, toothed, pointed leaves in midsummer. Flowers may occasionally appear pink or lavender in color. Turtlehead grows wild along stream banks and in wet woodlands and prefers moist, rich, acidic soil. Plant this perennial in sun or partial shade and provide water during dry periods.
Shooting Star
The flower stalks of Dodecatheon meadia, or shooting star, reach between 6 and 20 inches tall. The top of each stalk divides into shorter stems that each bear a single, white or pink flower in the spring. The nodding, star-shaped flowers feature petals that reach backward, leaving the stamens to hang downward. This flower is considered endangered in some states, where collection from the wild has led to a decreased native population. Purchase seeds from a reputable source and avoid gathering these flowers from the wild. Grow shooting star in partial shade and sandy or rocky soil and water regularly.
Wood Lily
The reddish orange flowers of wood lily, or Lilium philadelphicum, appear atop stems that grow up to 3 feet tall in summer. The funnel-shaped flowers feature purple spots near the center and extended stamens. The long, narrow leaves grow up the stalk to the base of the flower. This perennial grows wild in forest openings and prairies in Iowa and prefers rich, well-drained soil. Plant wood lily in sun or partial afternoon shade. Provide regular water and cut back the plant in the fall.
Large-Flowered Beardtongue
Penstemon grandiflorus, commonly known as large-flowered beardtongue, reaches up to 3 feet tall. In the spring, 2-inch purple flowers bloom for approximately four weeks. Large-flowered beardtongue features smooth, bluish green leaves. It grows best when planted in full sun and well-drained soil. Native to dry sandy soil, large-flowered beardtongue requires little watering. Deadhead faded flowers to encourage another cycle of blooming.