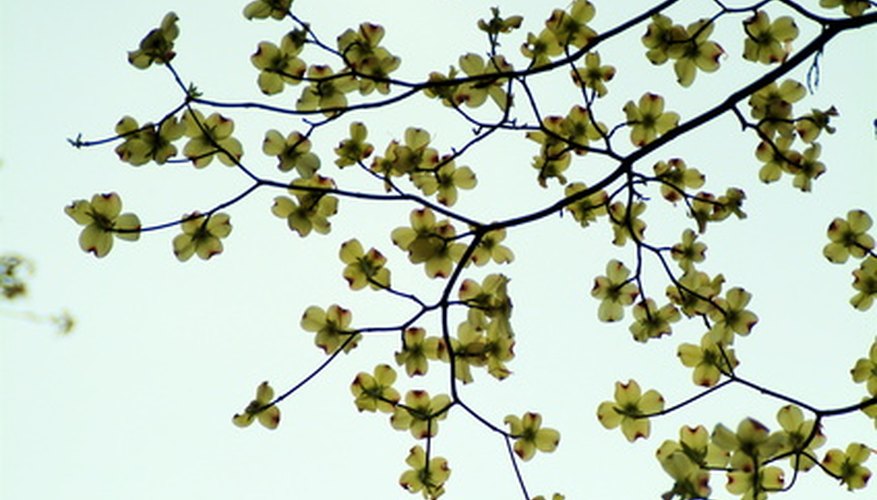 Small decorative flowering trees, often called ornamental trees, are the perfect addition to any landscape or garden. These trees are often the first plants to awaken in a garden each year--most flowering trees bloom in the spring--and some even have pleasing fragrances. Plant one by a garden pond so the blooms reflect in the water, or plant one in the center of your landscape and plan your garden around it.
Dwarf Little Gem Magnolia
Magnolias are deciduous trees that bloom in early spring with huge, tulip, star or cup-shaped flowers. Pink, purple or white varieties are the most favored. Magnolias are hardy trees and rarely suffer from insect pests or fungal diseases, according to the master gardeners with the Missouri Department of Conservation. They grow slowly so stay small for a very long time.
The dwarf "Little Gem" magnolia is a compact version of the popular "Giant Southern" magnolia tree. The flowers and leaves of the Little Gem are roughly half the size of the giant magnolia, and the tree only grows to a maximum height of 20 feet. This tree is hardy in USDA growing Zones 6a to 10b.
Pendula Higan Cherry
Flowering cherry trees make a beautiful spring display with their masses of pink blooms, which appear even before the leaves. One of the most popular is the Higan cherry tree (Prunus subhirtella), and one of the favorite varieties of the Higan cherry is the pendula, or weeping cherry tree. Unlike many Higans, the pendula features double flowers. This variety has branches that dip gracefully to the ground, making it the perfect small tree to plant near water. The weeping Higan cherry grows to an average height of 25 feet in USDA Zones 5 through 8.
Flowering Dogwood
Flowering dogwood trees (Cornus florida) are a favorite tree of home gardeners in the eastern half of the United States, according to horticulturists with the University of Tennessee. This early spring blooming tree is native to America and will grow in partial shade or full sun. Flowering dogwoods feature insignificant yellow flowers; it is the creamy white, red or piink bracts (modified leaves) that surround the flowers that give this tree its distinctive beauty. The flowering dogwood grows to a height of 20 to 25 feet.
Excalibur Crabapple
Crabapples (Malus Excalibur) are popular spring bloomers. The Excalibur variety is a perfect choice if you want spring blooms followed by attractive fall fruit. This tree will grow only to about 8 feet. Round and compact, Excalibur features tiny white flowers in the spring and small golden fruit that lasts from September through December. Excalibur will thrive in USDA Zones 4 through 7.
Pink Velour Crape Myrtle
The "Pink Velour" is a semi-dwarf variety of crape myrtle (Lagerstroemia indica). This tree features showy, bright pink flowers and interesting, burgundy-colored leaves in the summer. Pink Velour is a hardy variety and is resistant to fungal diseases. This round tree grows to a maximum height of only 10 feet. Crape myrtles love full sun and grow well in USDA Zones 7 through 9.