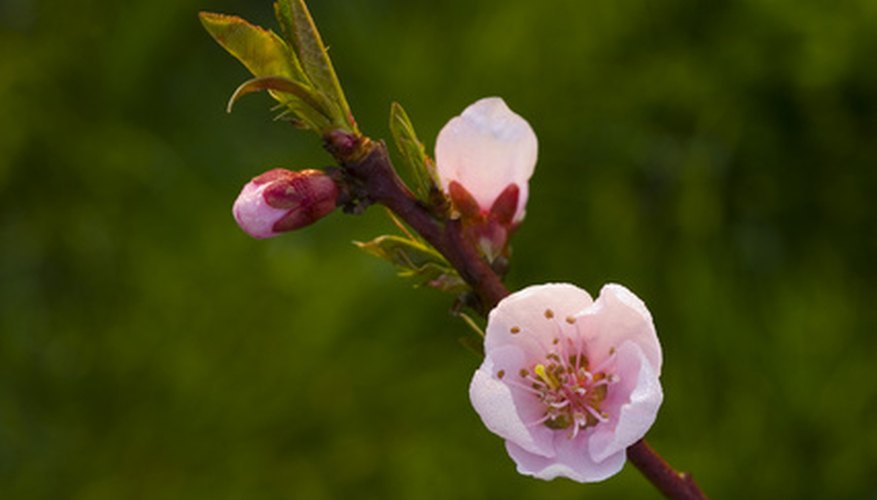 The peach blossom tree (Prunus persica) is native to China. This deciduous tree usually produces pink springtime blooms. It is a sought-after ornamental at flower markets in Asia where people celebrate the lunar new year (normally in January or February). The tree traditionally flowers at the start of the lunar new year, which is deemed a sign of good fortune for households and businesses decorated with these ornamentals. Planted outdoors, these lovely trees can grow to heights of between 15 and 25 feet tall.
Delaware's State Flower
Prunus persica became the official state flower of Delaware in 1953. The legislative act to adopt the peach blossom as the flower emblem of Delaware passed in 1895. This action resulted from Delaware's status as the "Peach State." Over 800,000 peach trees grew in Delaware at that time, creating an economic windfall for the state. About 6 million baskets of peaches shipped to market in 1875, thanks in part to the Delaware Railroad. Delaware was the top producer of peaches in the United States. Sadly, by the early 1900s, a peach blight afflicted the industry, causing devastation to peach growers.
Peach Blossoms Of North Vietnam
There are several varieties of peach flowers called Hoa dao that are native to North Vietnam. Red is a lucky color for peach flowers which are central to the Vietnamese new year celebrations called "Tet."
The dao bich variety has multiple red blooms. The dao phai variety has pale peach colored flowers but is better known for its fruit. The dao bach variety exhibits white flowers. The that thon variety produces multi-colored blooms.
Peach Blossom Legend
Legend has it that once upon a time in the vicinity of the Soc Son Mountain of North Vietnam, there stood an enormous peach tree that was home to two powerful gods named Tra and Uat Luy. These benevolent deities protected the people from lurking evil spirits. However, problems arose when the gods made their annual trek to heaven to present their credentials to the Jade Emperor. In their absence, the people took to placing branches of the peach tree in their homes to ward off the evil spirits. Today, it is the custom to adorn the home with peach blossoms during the new year to attract good luck.
Varieties of Peach Flowers
The peppermint peach tree (Prunus persica 'Peppermint') presents a fascinating combination of colors when it blooms, with white, pink and red stripes and even color dots that make the petals a sight to behold. The first wave of springtime blooms leads to a second wave, so that the tree is covered in flowers for several weeks.
Another interesting variety is the late double-red-flowering peach tree (Prunus persica 'Late Red'). This tree usually blooms for several weeks in April.
If you have trouble finding these varieties of flowering peach trees, try the TyTy Nursery or tytyga.com (see Resources section).