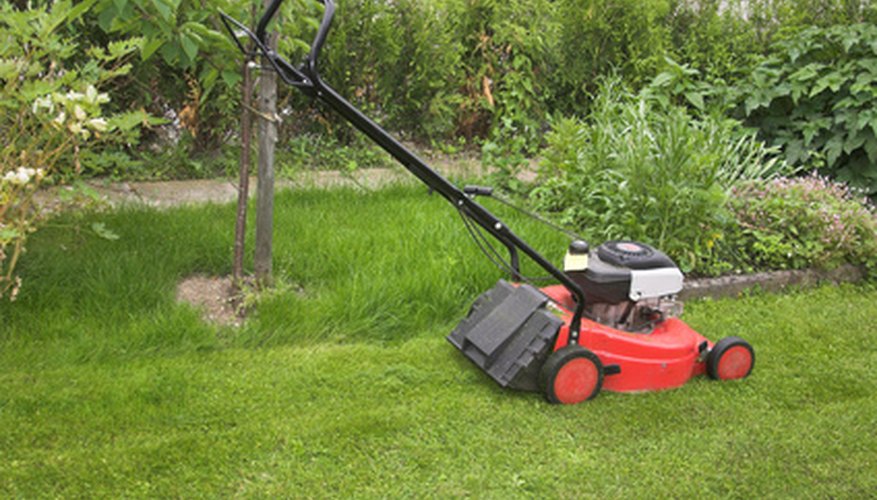 Changing the oil in your Honda mower is an excellent way to keep your mower running at optimal efficiency. Honda recommends changing the engine oil every 100 hours or at the beginning of each mowing season. Changing the oil is not difficult, and you can accomplish the task in one hour. Whenever possible, always refer to the owner's manual for specific recommendations for your model.
Push the fuel valve knob forward to shut off the fuel supply. The fuel valve knob is on the throttle control on the right side of the mower handle. Shutting off the fuel valve will prevent fuel spillage when draining the oil from the Honda lawnmower.
Wipe the oil filler neck and the area around the neck with a clean shop rag. By cleaning around the area, you will prevent dirt and debris from accidentally going into the engine crankcase.
Place an oil catch container on the right side of the mower. Twist the oil fill cap counterclockwise to remove the filler cap from the mower. The filler cap will have the dipstick under it, so place the cap in an area free of dirt and debris.
Tilt the mower on its right side, and allow the oil to drain from the filler neck into the oil catch container. Allow the oil to drain until there are only drips coming from the filler neck.
Place the lawn mower back over on its wheels, and place a funnel inside the oil filler neck.
Pour ¾-qt. of SAE 30 detergent motor oil into the filler neck. Lift the funnel out, and check the oil level with the dipstick. To check the oil, wipe off the dipstick under the filler cap. Insert the dipstick into the filler neck without twisting the filler cap. Pull the dipstick out, and check the level.
Place the filler cap back onto the filler neck, and twist the cap clockwise to lock the cap into place. Wipe off any residual oil from the filler neck area.