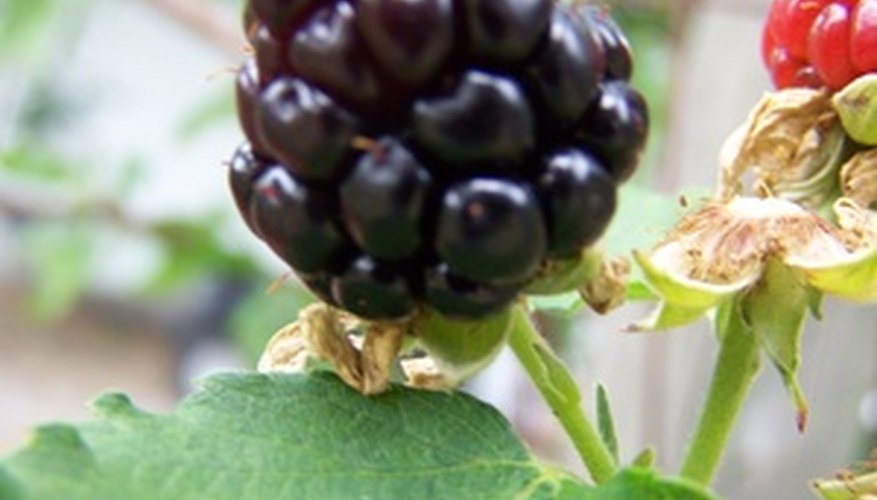 According to the Colorado State University extension service, blackberries are not often grown in Colorado due to the colder, drier climate that comes from the higher elevations in most of the state. Because blackberries do not thrive in Colorado, raspberries are grown more frequently. Blackberries in Colorado are sometimes referred to as dewberries.
Choose a sunny location with well-drained soil for your garden. Most Colorado soil is well-drained and slightly alkaline, conditions under which blackberry plants thrive.
Lay out a guide for your blackberry row using a garden hose. At each end of the garden hose, sink fencing T-posts into the ground. Stretch fencing wire between the two T posts.
Dig a planting hole that is deep and wide enough that you can place the roots inside without bending them. Place the blackberry roots in the planting hole and cover with soil. Set blackberry bushes 2 feet apart in rows 7 feet apart. Mulch the roots with straw to help hold in moisture and water deeply each week. Soil should stay as damp as a wrung-out sponge.
Divide blackberry canes between first-year growth and second-year growth. Blackberry canes produce berries on second-year growth. Tie the first-year growth canes onto the trellis in a different location than second-year growth canes. After each production season, cut second-year growth canes to the ground to make room for the bushes to produce more canes.
Protect your bushes from the harsh Colorado winters by untying the canes from the trellises and gently folding them onto the ground. Then cover the plants with a layer of soil and straw to shield them from the sun and insulate them from the cold. Cover the canes with a polyethylene greenhouse plastic.
Wait until all chance of frost has passed in spring and roll back the greenhouse plastic. Uncover the canes and carefully straighten them out. Tie canes back to the trellis.