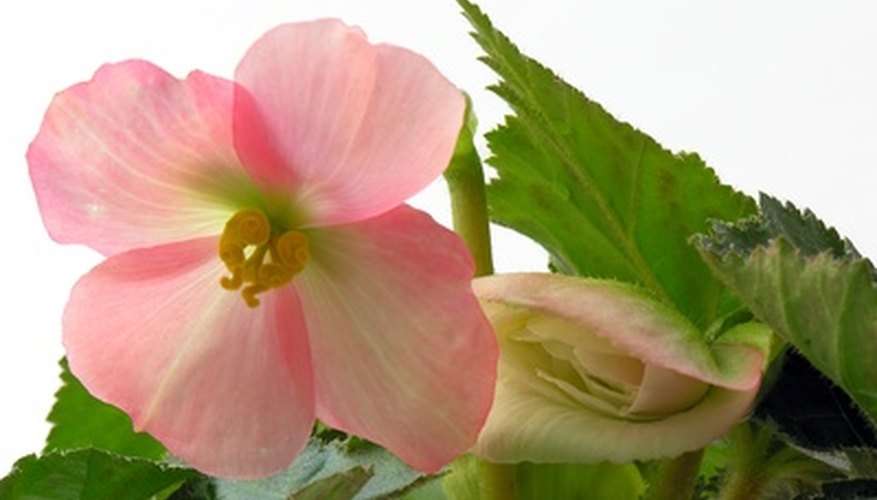 Begonias are tender perennials that are grown as annuals in most parts of the country. There are several different types of begonia, each with its own distinct look and particular care requirement. Begonias come in an assortment of sizes, foliage, flower shapes, and colors offering something to suit any taste. Whatever the type, all begonias have lovely flowers and interesting foliage in common.
Wax Begonia
Wax begonias (B. semperflorens) are easy-care plants that produce lovely flowers nonstop throughout the growing season. Plant heights range from 8 to 15 inches. Leaves can be green, dark red, bronze, or speckled with yellow. Long-lasting flowers grow on succulent stems with single or double blossoms in shades of white, pink, deep crimson, salmon, or bicolor. The flowers all have showy yellow stamens. Wax begonias bloom from spring until first frost. They prefer full sun but do provide some afternoon protection. Use wax begonias in containers, as edgings, or plant them in masses to provide continuous color in the flower border.
Tuberous Begonia
Tuberous begonias (B. tuberhybridacultorum) flower profusely, producing showier blooms than wax types. Tuberous begonias can be either upright or trailing in form. Uprights grow as tall as 24 inches. The colors are brilliant and are available in either bright or pastel hues in shades of pale pink, scarlet red, yellow, orange, cream, white, or bicolor. There is a wide assortment of flower types to choose from. Frilly types resemble carnations. Formal double types look like camellias. Tight-centered doubles resemble roses. Picotee types have petal edges that contrast with the petal color. The upright varieties bloom more profusely than the trailing types, while the trailers produce larger flowers. Trailing types are good for hanging baskets and window boxes. Uprights are nice in containers, in flower borders, or as companions for ferns and impatiens. Tuberous begonias prefer partial shade.
Hardy Begonia
Hardy begonias (B. grandis) have smooth, heart-shaped coppery green leaves with red to mahogany undersides. The leaves have pronounced vein markings. Plants grow 18 to 24 inches tall. Pink or white flowers bloom in drooping sprays on red stems. Hardy begonias flower from late summer to early fall. Plant them in partial to full shade. Provide them with a few hours of morning sun for the showiest blooms. Hardy begonias are good companions for myrtle, hosta, ferns and other shade-loving plants.
Angel Wing Begonia
Angel wing begonias (B. coccinea) are a hybrid species that are available in a wide range of sizes, from 2 feet in containers to more than 12 feet tall when planted in the ground. Generally treated as an annual, angel wing begonias can be grown outdoors year-round in frost-free areas. Their name comes from their pointed leaves reminiscent of angel wings. Foliage comes in varying shades of green, with deep red undersides. Many leaves are speckled with silver. Most angel wing begonias are heavy bloomers, with flower colors in shades of white, coral, pink, or red. Unlike the other begonia flower types, angel wings have tough, jointed stems resembling bamboo canes.