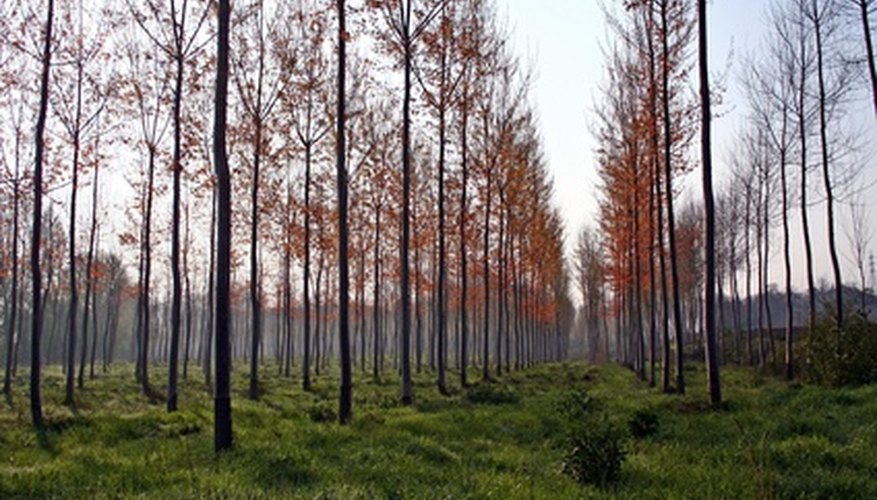 If you want a fast-growing tree for your landscape, a poplar tree may be what you are looking for. Poplar trees are broad-leaved, deciduous trees that have rounded contours and conical or pyramidal outlines. They grow very fast in a short amount of time, making them ideal for areas that need shade. Yellow, hybrid and Lombardy poplar trees are examples of poplars commonly used in residential and commercial landscapes.
Yellow Poplar
Yellow-poplar (Liriodendron tulipifera), also called tuliptree, tulip-poplar, white-poplar and whitewood, is a fast-growing tree with bright green leaves that resemble tulip flowers in profile and turn golden yellow in the fall. It is one of the most attractive and tallest of eastern hardwoods. It can live for 300 years on deep, rich, well-drained soils of forest coves and lower mountain slopes. Yellow poplar grows 70 to 90 feet tall and spreads 40 feet at maturity. It does well in full sun and tolerates acidic, loamy, moist, sandy, well-drained and clay soils. Yellow poplar has normal moisture requirements but can withstand some drought in humid conditions. The leaves measure 3 to 6 inches long and have distinctive lobes, a flat base and two ear-like tips. The color ranges from light green in summer to bright yellow in fall. The tulip-shaped, greenish-yellow flowers measure 1-1/2 to 2 inches in diameter with six petals that have an orange base and aromatic stems. The flowers bloom from May to June replaced by equally colorful seeds throughout the summer and into autumn.
Hybrid Poplar
Hybrid poplar is a fast-growing tree that can grow 5 to 8 feet per year. It can reach 40 to 50 feet tall and 30 feet wide at maturity. It has dense, green foliage and an attractive oval shape. The silvery-green, triangular leaves measure 3 to 6 inches long and 4 to 5 inches wide with margins that have teeth. Stalks are frequently reddish. Hybrid poplar is the result of natural and man-made crosses among poplar species. Some species result from artificial hybridization and subsequent planting. It tolerates poor soils, including acidic, alkaline or wet soils. It has good drought tolerance, can adapt to any growing conditions and is hardy to zones 3 to 9. Considered dioecious, hybrid poplar first flowers at about 8 years of age and subsequently blooms between February and May. Central areas of the bracts are light in color, and the digits are dark brown, sometimes tinged with black. Hybrids disperse seeds between April and June of the same year. Fruits are one-celled capsules borne in long pendulous clusters with tufts of long, white, silky hairs attached to short stalks of seeds surrounding each capsule.
Lombardy Poplar
Often used as a windscreen with its branches creating a dense barrier, Lombardy poplar, or black poplar, can grow up to 6 feet or more per year. It can reach 35 feet tall and spread 10 feet wide at maturity. Its unusual, upward-sloping branches form a columnar or pyramidal outline. Lombardy is not an evergreen and does not have any fall color. Preferring full sun, Lombardy can adapt to any soil condition, including mostly clay or mostly sandy soils, but prefers well-drained soil. It is hardy in zones 3 to 9. Leaves are dark green and flowers bloom in early spring with color ranging from green to red. Fruits are not significant. Lombardy prefers normal to moist conditions and sun exposure of at least six hours per day.