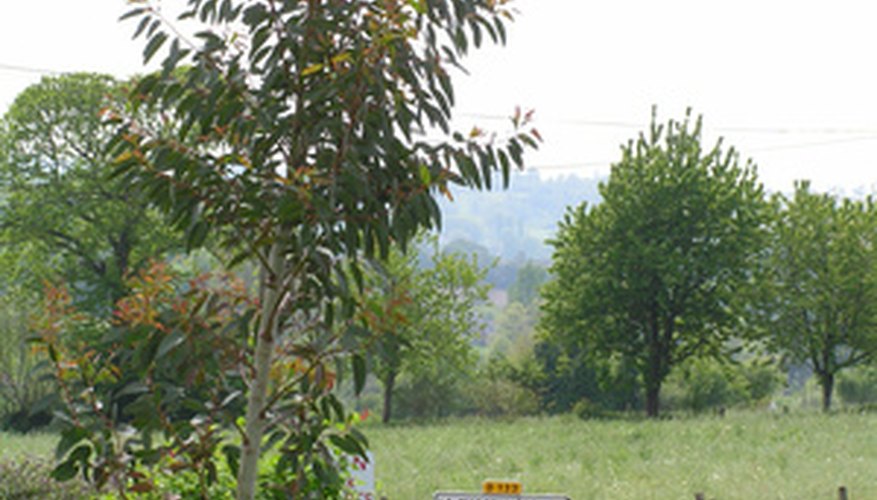 Eucalyptus is known more for its medicinal scent and oils than it is as a landscape tree, but it is fairly easy to grow and can make a majestic addition to any yard. The eucalyptus tree grows best in warmer climates and can attain a height of over 200 feet, at a growth rate of 10 to 12 feet a year. It is best to plant a eucalyptus tree in spring, as this gives the roots time to grow and get established before cooler temperatures set in. However, no matter what time of year you receive or purchase your tree, you should get it in the ground as soon as possible.
Planting Eucalyptus in a Pot
Select the largest pot possible for the room you will be keeping the eucalyptus tree in. Keep in mind that you may have to eventually discard the tree once it outgrows its pot, as potted eucalyptus does not always fare well when transplanted. Your pot should be a minimum size of 10 to 12 gallons.
Fill the pot 2/3 full with a potting soil mix and pack it down firmly.
Set the eucalyptus tree roots on the soil, spreading them out as much as possible without breaking them.
Cover the roots with soil, packing the soil down firmly. Plant the tree to the depth that, when the rest of the pot is filled with soil, the soil line is about 2 inches up the trunk.
Water the potted tree, and if the soil seems to have fallen deeper into the pot, pack in more soil.
Planting Eucalyptus in the Ground
Select a planting site that is in full sun, or where it will be exposed to at least six to eight hours of sun per day. Eucalyptus is not fussy about soil type, but it must get a lot of sun and have adequate drainage.
Water your tree while you are preparing the hole.
Dig a hole with your shovel that is 2 inches deeper and 6 inches wider than the pot the eucalyptus was in. If it was not in a pot, go by the size of the root ball.
Place the eucalyptus tree roots in the soil, spreading them out as much as possible. This may be difficult if your tree has been in a pot for some time, but spread the roots as much as you can without damaging or breaking them.
Pack the dirt back into the hole, making sure that it is packed tightly around the roots. You can pack the dirt so that it is up to 2 inches above the trunk. Water the eucalyptus soil, and if any soil settles down into the hole, replace with more soil.