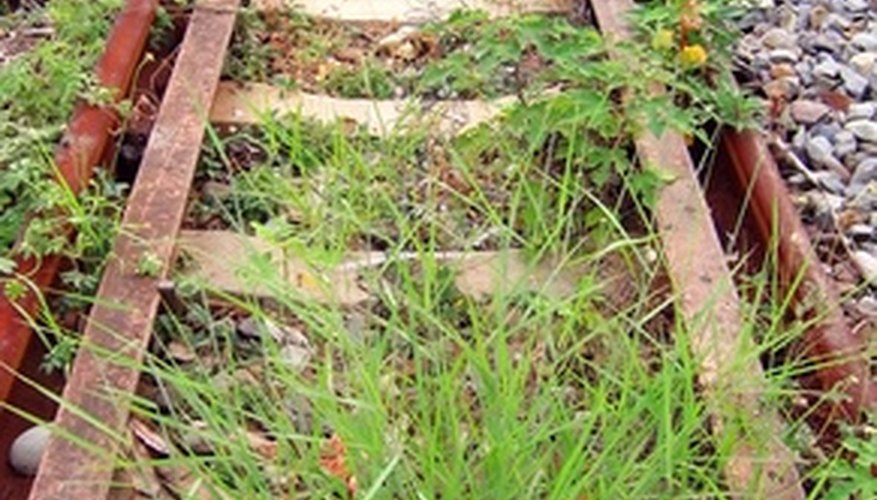 When railroads pull up tracks that are no longer used, the railroad will sell the used wooden cross ties (also known as sleepers) to landscaping businesses and homeowners. Between 8 and 9 feet long, and either 7-by-9 inches or 6-by-8 inches, reclaimed railroad ties are a natural looking landscaping supply. Railroad ties may be available in different grades; the highest grade have ends that are solid with all four sides are in good condition. The next grade level may have three or four good sides, but with some cracks. As the grade number rises, the price of the tie is lower and the appearance of the tie is less attractive; however, the marred appearance of the tie can be camouflaged in the landscape design.
Retaining Wall
The most wide-spread use of railroad ties is on slopes to retain soil. Multiple layers of ties may be bolted to a post which is embedded in the ground, or rebar may be driven through all layers of ties to hold them securely. Cut the ties in half and stand them on end, secured side-by-side, to create a unique low level retaining wall.
Steps
When a hillside disrupts foot traffic between outdoor living levels, railroad ties can be used to create steps. The ties may be used alone or the ties may be the front border of the step (riser) with brick or gravel filling the walk surface of each step.
Patio
Railroad ties can be cut to varying or exact lengths to create a pattern for a patio. The ties can be installed parallel or at right angles to each other. Rather than a solid patio of railroad ties, the ties can be laid to frame gravel, pavers, cement or bricks.
Safety and Privacy
Railroad ties can be embedded on end in the ground to create a privacy screen or a safety barrier to keep wayward cars out of the landscape. The ties can be spaced apart and cut to varying lengths.
Walkway
Cut the ties in half and embed them level lengthwise in the ground, side-by-side, to create a walkway. If you bury the ties so they are flush with the ground, you will be able to mow the lawn without hitting the wood.
Flowers
Use a single row of railroad ties to create delineation between a flower bed and a patio or the grass. Use several rows of secured railroad ties to create a raised flower bed.