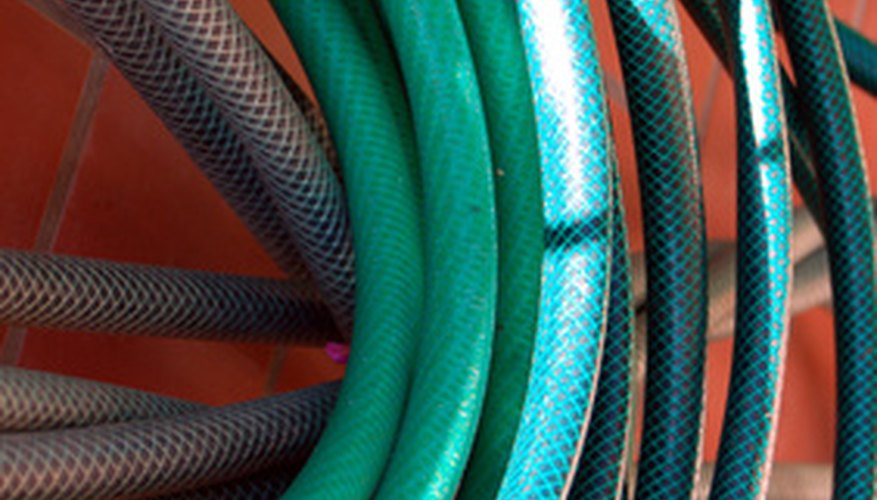 Garden hoses top the list of the arsenal of important tools used around the home landscape. Manufacturers have created a wealth of different hoses to perform many duties around the landscape. Garden hoses serve as a home improvement workhorse and come in a wide variety of models to suit particular needs. Choosing a type of garden hoses depend on what kind of landscaping task you need to perform.
Standard Hoses
Standard garden hoses come in lengths ranging from 25 to 100 feet. Traditional garden hoses consist of vinyl or rubber molded into a tube 1/4 to 1/2 inch wide. Vinyl hoses tend to wear faster and can easily bend when exposed to excessive heat or cold. Industrial strength rubber hoses can tolerate forceful water flows with tightly wound threading throughout the length of the hose. Regular garden hoses feature a brass coupling on one end for attaching the hose to the outdoor spigot. The other hose end has a coupling for easy attachment of sprayer nozzles. Rubber hoses last considerably longer than vinyl materials since those models kink easily and dry out with extensive sun exposure. Blended hoses are models featuring a combination of rubber and vinyl construction designed for long use.
Flat Hose
Flat hoses work perfectly around small properties with an easy storage option. These vinyl hoses expand as water flows through the hose and compress flat when water flow stops. Flat hoses roll up for compact storage. Hoses ends have male and female ends for attachment to the spigot and sprayers.
Soaker Hose
Soaker hoses do the heavy work of watering the garden for the homeowner. Gardeners can wind these flexible hoses through the garden bed around the plants. This hose works with light water pressure that expands the hose slightly and releases water from hundreds of tiny holes along the length of the hose. Soaker hoses benefit plants by allowing water to slowly percolate into the soil. Some gardeners choose to leave the hose in place throughout the growing season and simply bury the hose in mulch. Soaker hoses will degrade when exposed to soil and heat. Holes expand with frequent use over time.
Soak and Spray Hose
Soak and spray hoses perform a combined spray and soak with one hose unit. These hoses also feature thousands of holes to allow spray to emit from the top portions of the hose, much like a sprinkler. This type of garden hose also allows excess water to soak through the bottom holes on the hose to allow additional water absorption into the soil.