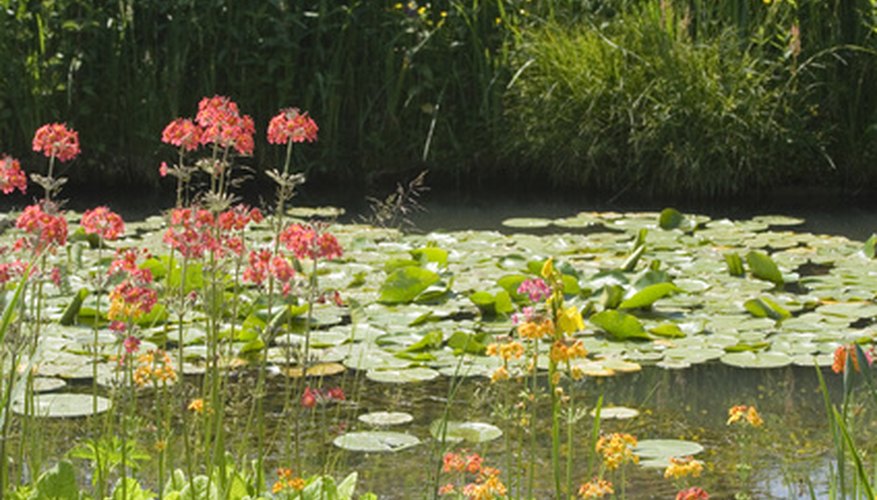 Alabama gardeners can find many places suitable for wetland plants. The plants need more water than other varieties and will thrive in low-lying areas of the garden where water tends to pool. Work them into a garden pond design and they will feel right at home. Plant them alongside a stream. The plants attract birds and wildlife, adding another element to the overall scheme of things.
Swamp Leatherflower
Swamp leatherflower (Clematis crispa L) is also known as curly clematis, blue jasmine and curlflower and is a member of the buttercup family. It is a climbing vine that grows up to 10 feet long and produces leaves that are made up of three to five small leaflets and fragrant pink or purple flowers that grow upside down on their own stems and measure 1 to 2 inches long. Plant the vine in full sun or partial shade and wet soil. It can be trained to grow over a trellis or let to fall over low walls. Birds will come for the seeds and butterflies for the nectar. Swamp leatherflower can be planted in all regions of Alabama.
Cinnamon Fern
Cinnamon fern (Osmunda cinnamomea) produces fronds that grow from 3 to 5 feet tall that start out cinnamon brown and turn pale green as they mature and then to a golden brown before they die back to the ground in the winter. Plant cinnamon fern in partial shade and a moist rich soil. It can go in full sun if it is in a wet soil. Cinnamon fern can be grown throughout Alabama.
Bushy Bluestem
Bushy bluestem (Andropogon glomeratus) is an ornamental grass that grows from 2 to 5 feet tall and turns a salmon-orange color in the fall. It produces leaves that are blue-green in the summer and turn copper in the fall. The fluffy silver flowers grow higher than the leaves and bloom from August through November. Plant bushy bluestem in full sun and in a moist to wet soil, either clay, loam or sandy. It attracts birds and butterflies and can be grown in all areas of Alabama.
Lizard's Tail
Lizard's tail (Saururus cernuus L) grows to 4 feet tall and produces thin spikes of small, fragrant, white flowers that bloom from April through August and triangular-shaped green leaves that grow opposite the flowers. Plant lizard's tail in partial or full shade and a soil that is moist to wet or muddy. It is a favorite plant of wood ducks.
Pale Touch-Me-Not
Pale touch-me-not (Impatiens pallida Nutt) is also called yellow jewelweed. It produces green leaves and succulent stems with pale-yellow flowers that bloom from June through October. Plant pale touch-me-not in full shade and moist to wet soil. It can be planted in all of Alabama.