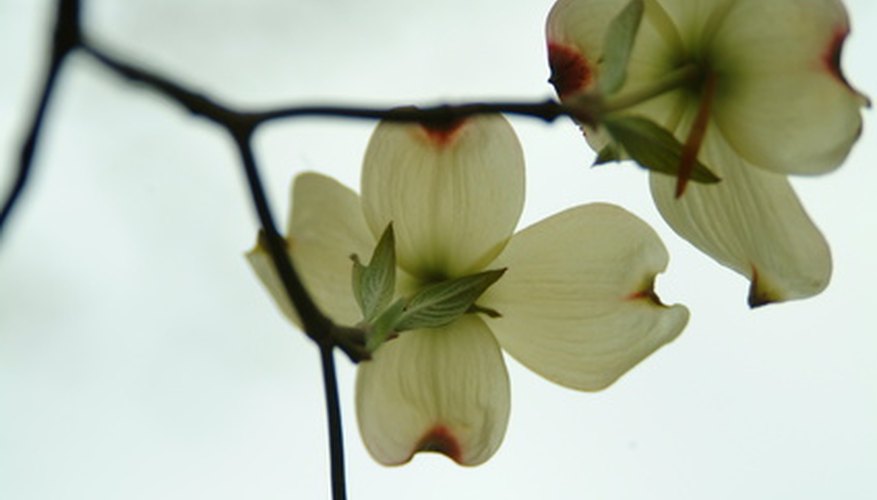 dogwood tree flowers image by Jorge Moro from Fotolia.com
Considered by some the beautiful dogwood native to Florida is the flowering dogwood, but it cannot be grown in the warmest reaches of the Sunshine State. There are three other species of dogwoods that are native to Florida, appropriate for garden use if their growing needs can be accommodated. These three are best in wet soils and do not have large showy bracts. Florida is in USDA Hardiness zones 8 through 11.
Flowering Dogwood
This deciduous forest tree is among North America's most beautiful in form and flower with large bracts and white modified leaves that look like petals. Flowering dogwood (Cornus florida) is native to the shaded woodlands in northern Florida to as far south as central Orange County. The hot Florida sun and summer mandate that this tree receive dappled light under the branches of tall pines or shade trees to prosper. Moreover, if winter temperatures are not cool enough, flowering the following spring is diminished. Small red berries occur in autumn. This species needs a moist but well-draining garden soil that is acidic and rich in organic matter. It grows 20 to 25 feet tall and 15 to 20 feet wide, and is best in USDA zones 8a through 9a, no further south than Orlando.
Swamp Dogwood
Native to the wetlands across peninsular Florida, swamp dogwood (Cornus foemina) grows into a small shrubby tree about 15 feet tall and 12 fee wide at maturity. This is the most widespread native dogwood as it grows in sunny and shady wetlands as well as in a casual garden setting. It is a multi-trunked plant that loses its leaves in the winter, albeit briefly. The tiny white flowers are borne in clusters on tree branches in spring, followed by small blue berries by autumn. Grow it in USDA zones 8a through 9b.
Silky Dogwood
The silky dogwood (Cornus amomum) produces snowball-like clusters of tiny white flowers that attract butterflies in late spring. The flowers develop into pale blue berries. Growing along streams and lakes, this large shrub to small tree reaches a height of 10 feet and a spread of 6 to 9 feet. It is native to the northern part of Florida, and thus best in USDA zones 8a through 9a. Removal of lowermost branches creates a small tree in a garden setting.
Roughleaf Dogwood
Also small in size and growing no taller than 15 feet in height and to a spread of 10 feet is the roughleaf dogwood (Cornus asperifolia). As the name implies, the leaves are hairy and rough, unlike the smooth glossy texture of the other species aforementioned. Clusters of tiny white flowers appear in early May and become small white berries held on reddish stems. This plant appreciates moist to wet acidic soils in partial shade to dappled sunlight in a woodland garden setting. It is best grown in USDA zones 8a/b in only the northern reaches of Florida.
Resources